It's been a capricious season for chimney swift observers in Sault Ste. Marie. Researchers with the Algoma SwiftWatch project have noted that the number of chimney swifts roosting in the Sault this year is noticeably lower than previous years.
As Max Stringer, Reggie's Tavern bartender, put it, "Some years there's more. Some years you don't see so many. Sometimes you think it's never going to end."
On May 13th, researcher Brandan Norman, counted upwards of 1100 birds roosting in the chimney at the Sault Ste. Marie Post Office on Queen Street. But over the past few days Norman has counted around 300 birds roosting in the post office chimney. For a while, the chimney swifts were bouncing between the uncapped chimney at the Courthouse as well as the Post Office- a bit of a challenge for researchers who have installed three cameras in and around the Post Office chimney where for the past several years birders and the Sault Naturalists have observed chimney swifts roosting by the thousands.
"It's unpredictable what chimney they'll use on any given night. It's definitely been a strange year," remarked Norman.
Norman, like accidental birder –Max Stringer, agrees that it might just be a low bird year adding, "If the chimney swifts are migrating through and the weather is clear the birds are more likely to continue their flight instead of roosting. On nights with a lot of cloud cover we have seen more chimney swifts come to roost."
Norman also thinks that on colder nights the chimney swifts are more likely to roost at the Post Office where a heat source is provided through the venting of a hot water heater through the chimney- an explanation for the blurring of the lower camera. The Courthouse chimney is completely sealed at the bottom.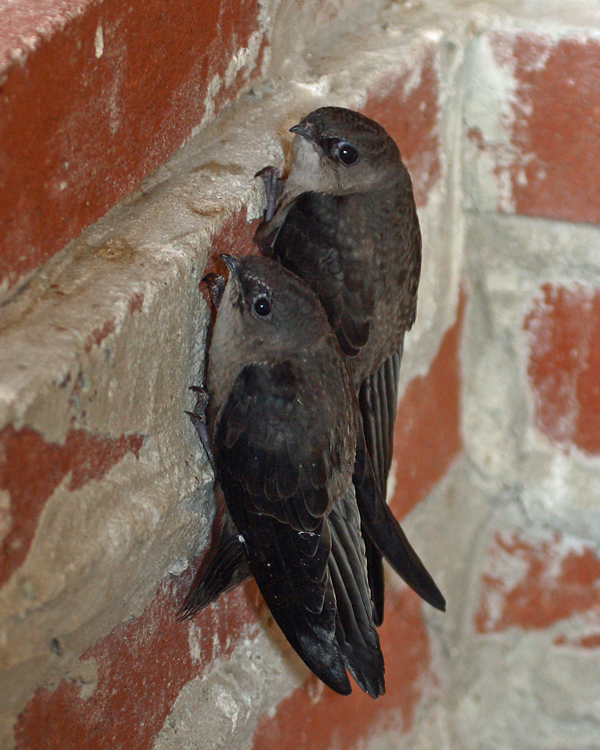 Loyal birders can expect to see fewer chimney swifts roosting from now until mid-August. Love is in the air and chimney swifts ripe for breeding have paired off and have begun nesting in hollow trees and uncapped chimneys in Sault Ste. Marie. Norman had a captivating front row seat to observe the foreplay –*ahem* courtship, among the chimney swifts.
"Typically chimney swifts chitter. When they're courting you'll see a two or three birds competing for a female and they'll chirp. And then they'll fold their wings back into a 'V' and glide alongside the female. No one really knows what the female is looking for but what I suspect from the male is he's communicating 'hey, look how nice my feathers are' and 'hey, look at me. I'm a good flyer'. It's his time to show-off."
Chimney swift pairs are monogamous and mate for life, beginning at age two.
According to Norman, chimney swifts only have one brood a year. Chimney swifts will lay 3 to 5 eggs and incubate those eggs for 15 to 21 days. While raising their chicks, mom and dad remain in the nest for an additional 14- 19 days. A unique and admirable quality of the chimney swift is a sort of co-parenting arrangement with last year's brood. One-year old chimney swifts that don't mate –for myriad reasons including inexperience, unattractive features or plain ole' commitment issues, will pitch in and help mom and dad look after their little brothers and sisters.
"It's very unusual especially given that they migrate all the way down to South America and then fly back to Canada and return to the same chimney and then have last year's chicks return to the nest to help raise this year's brood," remarked Norman. "Sometimes birds do have helpers but it will be within that same breeding season. There are some songbirds that if they have two broods in a season the first brood might help raise the second brood- but even that is uncommon."
Researchers have not discovered the nesting sites of local chimney swifts and are encouraging anyone who may know of hollow tress, uncapped chimneys or even the dark corners of barns or sheds, that are occupied by a nesting pair- including up to two helper birds and chicks, to please contact Algoma SwiftWatch.
Chimney swifts have been classified as a threatened species under the Endangered Species Act. At one time their natural habitat was found in the hollows of a tree. The persistence of deforestation in Canada has obliged the chimney swifts to adapt to new habitats. Though the chimney swift is protected under the Act, the man-made habitats that they have been forced to evolve to are not. However, because the birds are protected, once a chimney swift has chosen a chimney to roost or nest in, it is illegal to destroy that habitat. Only when the birds have left for the winter is it legal to cap a chimney or destroy a roost.
So, how does one know if they are the unwitting host of nesting chimney swifts? Don't worry- you're not likely to find a lot of poop in your hearth! Yet another admirable quality of the chimney swift –they clean up after themselves. Droppings are hard packed and carried away from the nest to avoid detection by predators.
"People might hear them in their chimney," commented Norman. "But they're not as noisy as starlings or robins but sometimes the chicks will start begging for food when the parents come in to feed. Also, when they are feeding chicks, you'll see them coming into the chimney fairly frequently. Watch your chimney for 15 minutes or so and you'll likely see both parents coming in and out."
Chimney swifts don't kick their chicks out of the nest. Instead, after 16 days or so, mom and dad take off and head back to the roost for a few nights of downtime before they make the long return flight to South America. This give the chicks enough time to slowly and bravely venture from the breeding nest and "make larger and larger voyages outside of the chimney because they are not being fed," explained Norman. "They'll start feeding themselves and eventually they'll meet up with a bunch of other chimney swifts, and presumably their parents, and they may stay in the roost for a while and then start their migration."
*****
If you've discovered a chimney swift nesting site or perhaps are hosting a nesting pair in your chimney please contact Algoma SwiftWatch at algomaswiftwatch@gmail.com.
For your enjoyment, check out the delightful renderings of area students' visual interpretation of the fascinating chimney swift below.