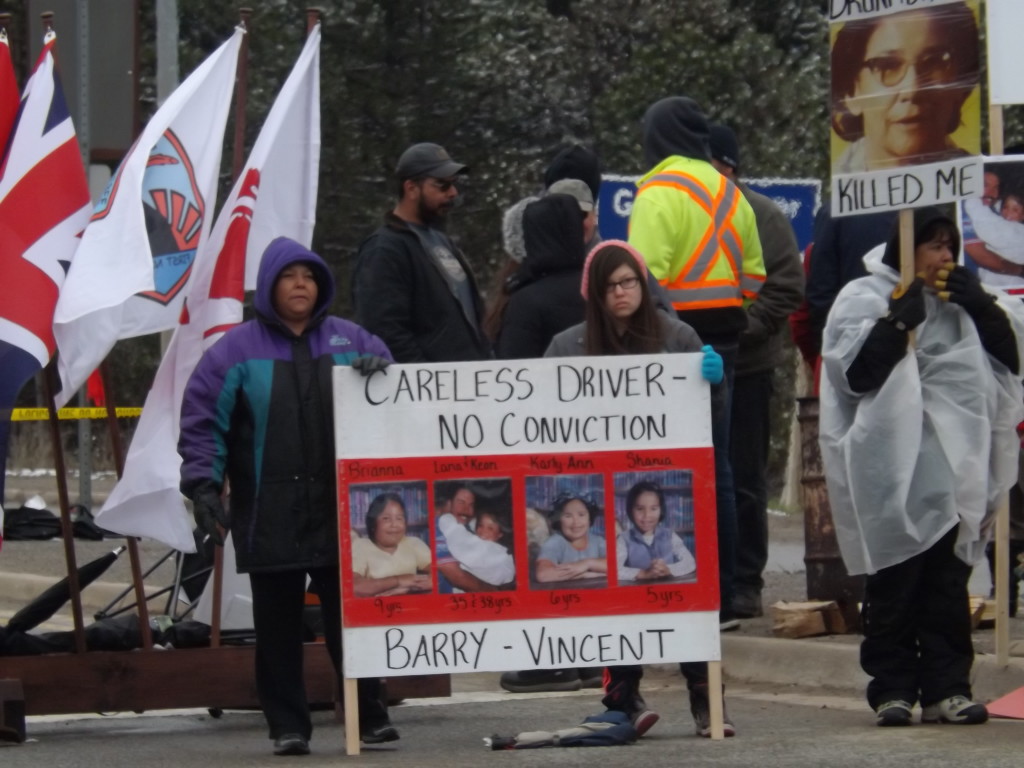 The rain, sleet, hail and snow didn't dampen the determination of demonstrators from Garden River First Nation and neighbouring communities who were set on driving their message vehicle traffic on Highway 17 should "Just Go Around".
The rally, Honouring Our Angels of Highway 17B, was organized on the heels of a recent verdict out of the Ontario Court of Justice which acquitted Terry Mosher of Obstruction of Justice on the matter of the highway fatality of Jessie Roach, a Garden River First Nation member. There have been upwards of 37 Garden River First Nation members that have lost their lives on the corridor of highway that stretches 20 km through the Anishinaabe territory. The lives of others, non-members of Garden River, have also been killed on the highway. This past Friday, two residents from Bruce Mines were killed in a head on collision with a tractor-trailer.
In 2007 the bypass was built looping vehicles around Garden River and diverting motorists from the residential corridor along Hwy 17B.
Garden River First Nation Chief, Paul Syrette, has been tireless and tried as he delivers the same message to regular commuters and users of the highway to travel via the multi-million dollar extension. "Many of our political leaders, decades prior to me, lobbied the government for that bypass. In 2007 it was opened. The initial intention of it served its' purpose. People liked it. It was a novelty. People went around. For some reason in recent years, that flow of traffic came back to the Highway 17B corridor- through our residential area. The word on the street we heard was that it was shorter."
Chief Syrette lamented over four decades of far reaching tragedy. "For the last 40 years our members have been affected. Our community is tired. Our community wants this to change. Hence our demonstration to say that community safety is the paramount reason we are here today. It's not just the Garden River First Nations that have lost loved ones," remarked Chief Syrette acknowledging this weekend's accident that claimed the lives of Diane Long and Cal Link. "Many of our neighbours and friends outside of our First Nation have been impacted.
Deputy Grand Council Chief of the Anishinabek Nation, Glen Hare, attended today's event. A teleconference with the Chiefs of Ontario was also held this morning to discuss the overdue requirements of Garden River residents.
"Regional Chief Isadore Day is calling on the government to come to the table. We want the Minister of Transportation, Minister of Aboriginal Affairs, Minister of Community Safety, Minister of the Solicitor General – whoever we need to come to this table. We are calling for a high level meeting to bring the Ministers and First Nation's leadership to the table. We want to talk about an action plan. We are calling for a community impact plan with the intention being to not just look at the most recent incidents, but all the tragic incidents that have occurred on this highway." Chief Syrette added, "There are many First Nations that have provincial highways that are going through their territory. We have to ask the government 'why'."
Over the course of many community meetings, Garden River residents have discussed long-term strategies that may slow down or redirect vehicles. Electronic signage, dramatic billboards, better lighting, sidewalks and decreasing the speed limit are ideas that have all been given some consideration.
"There are a number of ways we can implement meaningful change. We will be relentless. We will pursue this at all levels. I truly believe if we get an opportunity to meet with the Ministers that will set the groundwork for some significant changes."
Shifting his gaze to the flow of traffic onto the highway extension and away from Garden River, Chief Syrette gestured widely with his hand. "There's a good message here. If you look at what's happening here this bypass is working. Its' being effectively utilized, it works. The message is simple, just go around. The bypass was designed for this exact reason- to stop all of this traffic from going through the reserve."