~ feature image, left Malesa, right Josephine
There exists, in many communities, people who are compelled to live in an altered reality- a reality that presents itself in the form of a devastating health diagnosis. Within seconds everything that was held to any semblance of order, gives way to a heightened sense of survival. There is no room for error. All the ties that bind a person to a state of 'normalcy' in their life are frayed, tattered and tossed into the murky waters of a cancer diagnosis.
Acute lymphoblastic leukemia (A.L.L.) is a cancer that affects the white blood cells. These cells fight infection and help protect the body against disease.  And this  is precisely the diagnosis that a woman in our community has been given.
Since February 2014, Malesa English, her husband Charles Thomas and 15 yr. old daughter, Rasheda, have been on an exhausting journey towards treatment and survival. After months of feeling un-well, several trips to the Sault Area Hospitals' emergency department, along with experiencing increased pain and exhaustion, a diagnosis finally came. Malesa had A.L.L.
Dr. Hill, hematologist, with SAH, shared the devastating news with Malesa and her husband.
"My mind will always remember that day," said Charles Thomas. "It will stay with me for the rest of my life."
Patients with A.L.L. have too many immature white blood cells in their bone marrow. These cells crowd out normal white blood cells. Without enough normal white blood cells, the body has a harder time fighting infections. Fighting infection is exactly what Melesa has to do in the present time.
After a lengthy journey of chemotherapy treatment in Sudbury, Malesa is preparing to undergo a stem cell transplant.  Charles shared that his wife Malesa is a strong, spiritual woman.
"We have folks from Jamaica to Sault Ste. Marie praying for her well-being," he continued. "Today, she is holding on for dear life, trying to remain infection free," he shared. "It's imperative for the next phase of her treatment."
Charles shared that within minutes of Malesa's diagnosis they were heading to Sudbury. Dr. Hill made arrangements for air ambulance to take her to Sudbury. Charles made arrangements for their daughter to stay with family friends. Heading into the great unknown, Charles followed his wife to Sudbury.
Charles is a welder by trade and works for Canadian Pacific Rail. While Malesa was in Sudbury for her first round of chemo from February to mid-March 2014, Charles was able to have his position transferred to the Chapleau area. This allowed him to be closer for Malesa's chemotherapy treatment. He would travel the 120 km round trip back to hospital in Sudbury to be a life-line for Malesa.
"Malesa was in a great deal of pain. The chemotherapy is fed directly into the spine," Charles shared. "What the body goes through," he sighed. "It's hard to watch someone you love…." He stopped, emotion catching his words. Across the phone lines I could hear Malesa's voice in the background, softly telling him "it's okay."
Charles continued to share the story of a family trying to navigate uncharted waters. He went on to describe the sequence of events up to this point in time. "During the initial induction phase of chemotherapy treatment, Malesa showed signs that her body was responding well to the treatment," said Charles.
Charles began to unroll the bureaucratic red tape to ascertain a visitor's Visa for his mother-in-law.  Malesa's extended family live in Jamaica, her country of origin. After a lot of hard work and persistence, Malesa's mother was issued a Visa. Charles drove to Toronto to greet her at the airport, where she landed in a Canadian blizzard. Charles remembers this day with humour and fondness.
Malesa's mother, now safely landed at Pearson International Airport, would become part of an important support network.  Travelling to Sudbury, Charles and his mother-in-law brought Malesa home, to Sault Ste. Marie.  Malesa would enjoy a brief stay at home with support from Bayshore Home Health Care. She would soon be heading back to Sudbury for the second phase of her treatment. Malesa's mother would stay in Sault Ste. Marie until the end of June, caring for her granddaughter. Once school was out for the summer break, Malesa's mom would head back to Jamaica.  Malesa's sister, Josephine, would then come from Jamaica to offer support, and, as it would turn out, so much more.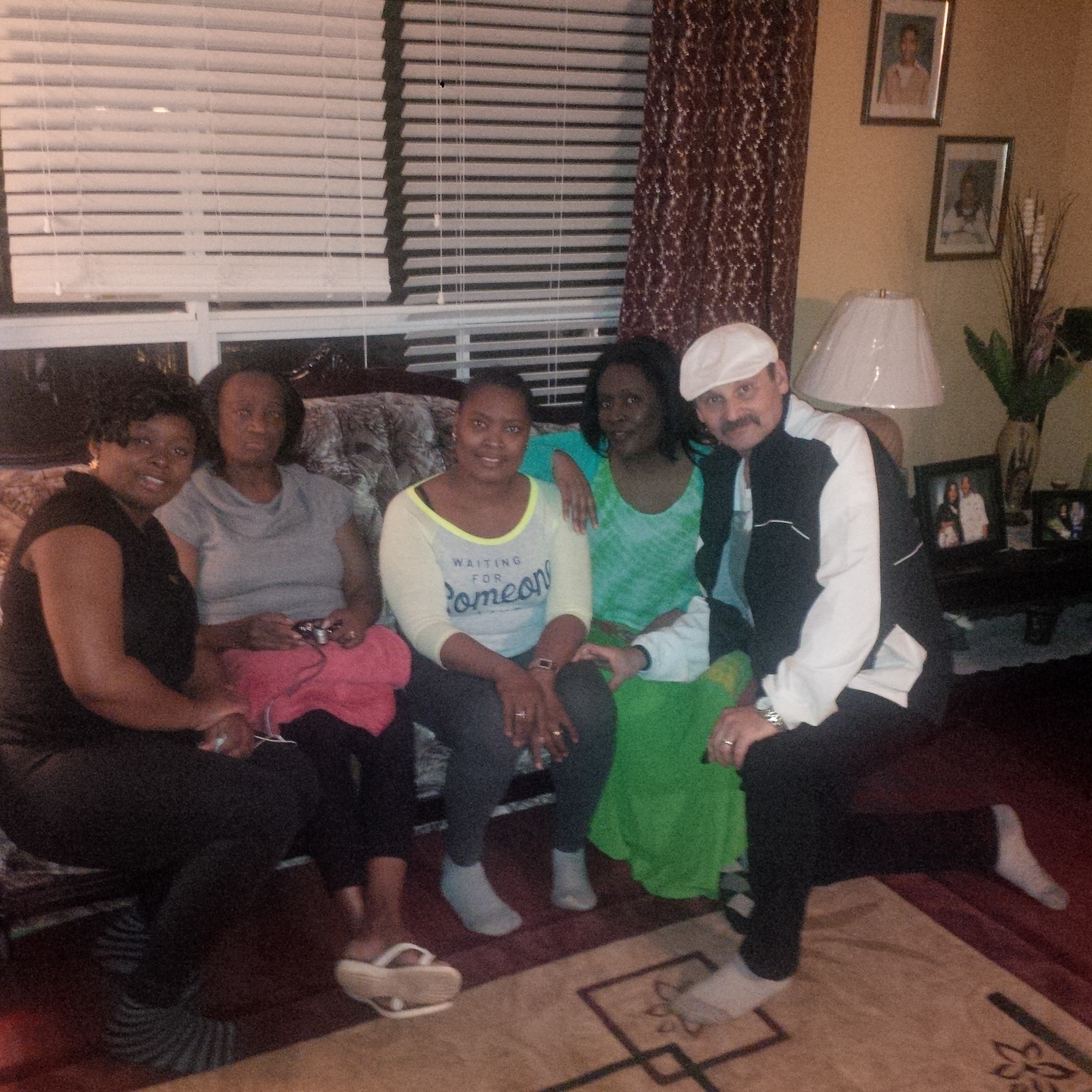 Along the treatment route, the possibility of a stem cell transplant was raised by Dr. Gill, Health Sciences North in Sudbury.  Josephine, as it happened, was an exact match for Malesa.  Dr. Gill called Princess Margaret Hospital in Toronto, where Malesa , Charles and Josephine would head next. And today, this is where they wait.
Charles has been working to have Josephine's Visa stay extended.
"That is another stress right now," Charles shared. "You really don't know what people have to go through until you are facing this yourself."
As of this moment in time, Josephine still has not been granted an extended stay on the Visa. "This would be devastating being denied the extended stay," Charles said. "Josephine will need to be here for all of the upcoming procedures."
The added stress of a Visa extension, looping somewhere on the 'red tape highway' has definitely taken its toll on everyone. Charles shared that he tries to keep a positive mind for Malesa. "She needs me to be strong," he said, not for the first time during our interview.
Daughter, Rasheda, continues to keep up with a busy high school life in Sault Ste. Marie.  Charles shared "She continues to live with her friends' family. We are so blessed to have them in our lives."  He continued. "I don't know where we would be without their generosity."
Charles continued to work as long as possible. In late fall, though, as the reality of stem cell transplant treatment began unfolding, Charles would have to take a leave of absence  from C.P.R.  Having used up all of this vacation time, there was no other option. "In my work," he shared. "There is no room for mistakes. I could not afford to become so distracted, that my co-workers safety would be put at risk."
Financial resources have now been depleted. Staying in Toronto has pushed the family into that darkest of places- financial stress. Malesa will need to continue to stay at The Princess Margaret Lodge for 100 days after the transplant. They are currently in Toronto, following the medical protocol required for Malesa and Josephine to undergo the stem cell transplant.
An individual rooting for Malesa is Jane Omollo, Settlement Services Supervisor with Sault Community Career Centre. Jane has known Malesa for eight years and brought this story to the attention of the Northern Hoot.  Jane is a woman of deep Christian faith. She believes that as a community, we are bound by our humanity. "We must take care of each other," Jane shared. "It is important to have a loving community to embrace you, especially when you are sick."
Jane continued. "Collectively, we can demonstrate a compassionate heart and lift this family towards healing, spiritually, emotionally and physically."
The interview drawing to a close with Charles and Malesa, I asked them if there was anything else they would want to share. Malesa, spoke softly, and said, "Thank you for all the prayers that are being offered for me."
Charles concluded with this. "I want people to know that there are angels in the world. It isn't until you go through something like this, that you really understand how many people are out there helping cancer patients and their family."
He stressed, "There are some real sweethearts out there. Volunteering, giving of their time and energy-people that truly empathize with what you are going through."
Charles spoke further about the medical team with the utmost respect. "The oncologists, the doctors, the nurses, Bayshore home health care – all of it. It's incredible really." He continued. "The thing that really gets you are the volunteers out there, trying to make it a little less rough."
Prior to Malesa's A.L.L. diagnosis, she was working towards enrollment in the Sault College, Personal Support Worker programme. With the help of Heather Ferguson, an instructor at Sault College, Malesa and her family have reached out to the community for financial help. They have set up a 'Youcaring.com' fundraising page. The goal is $3,000 of which at the time of this article, two hundred and ten dollars has been raised.
Malesa English is scheduled for a stem cell transplant, on December 11th, 2014, at Princess Margaret Hospital, Toronto, Ontario.  Malesa English and Charles Thomas were interviewed by telephone in Toronto, Ontario. This is where Malesa will continue in her journey to a hopeful outcome, knowing that there is a collective of compassionate hearts, supporting her, moving this family towards Christmas 2014, with a renewed spirit, and outlook for a healthy 2015.
*****
You can make a contribution to Malesa's health and recovery by clicking here
OR
By copying and pasting the link below to your browser:
http://www.youcaring.com/medical-fundraiser/help-malesa-with-stem-cell-transpant-recovery/261553#.VGYTkKpo9M4.facebook