Researchers are predicting a "large-scale" spruce budworm outbreak in Ontario over the next few years.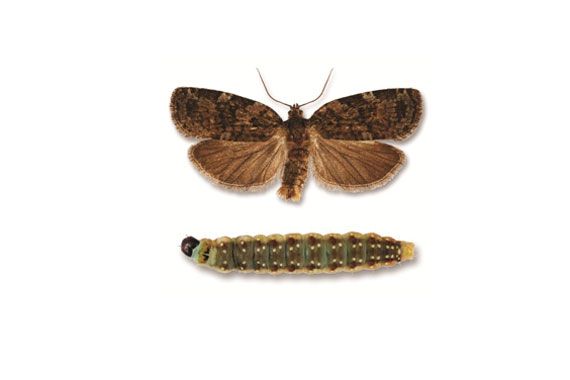 "The spruce budworm is an eruptive pest –like the forest tent caterpillar," explained Dr. Christian MacQuarrie, research scientist with Natural Resources Canada. "They are always here but most of the time in small numbers and both of them can result in big outbreaks."
Unlike forest tent caterpillars outbreaks that come on quickly and die off in a couple of years, spruce budworm outbreaks build slowly and can last 10 -15 years. Though a natural part of our northern landscape and an important part of the ecosystem, every 30 years or so, spruce budworm outbreaks have devastated millions of hectares of trees in the boreal, Great Lakes and Acadian forest regions of Canada.
As Dr. MacQuarrie articulated, spruce budworm outbreaks "damage forest resources valued for economic or ecological reasons".
The spruce budworm feeds on white, red, and black spruce as well as tamaracks, but its preferred host is the balsam fir. "That's where they do the most damage," explained Dr. MacQuarrie. Budworm outbreaks have had a dramatic impact on communities reliant upon forestry related activities, and as indicated by Natural Resources Canada, dead and damaged trees remaining after a spruce budworm infestation creates further problems, possibly becoming a major source of fuel for wildfires and brood material for other insects.
Researchers are keeping abreast of potential outbreaks through vigilant tracking of the spruce budworm population. "We've noticed budworm counts ticking upwards in Quebec and when that happens it will start to tick up in Ontario," remarked Dr. MacQuarrie. "Over the past two years our research has been north of Sudbury and north of North Bay. We're seeing exfoliation out there and catching a lot of bugs in our insect traps but it's not at the point where Ontario has started considering any management –yet."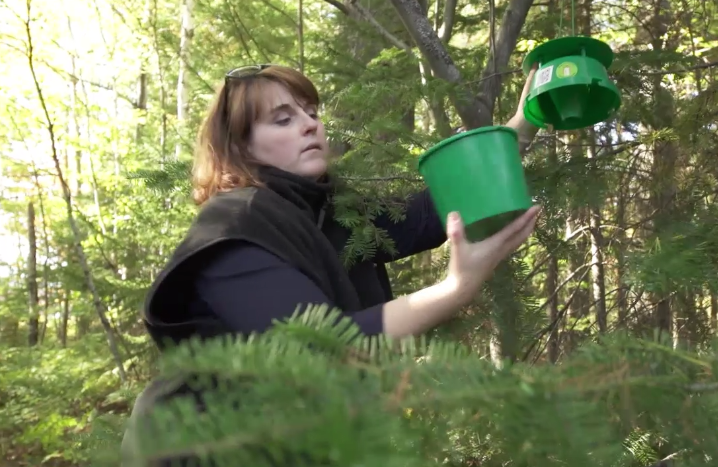 In an effort to enhance data collection regarding the progression of the spruce budworm, a Citizen Science program has been launched across Eastern Canada as well as Maine. The Spruce Budworm Tracker program seeks individuals who can help with the surveying and trapping of moths –which is what the spruce budworm eventually transform into.
"The idea is to get people interested and thinking about what is going on in the forest," remarked Dr. MacQuarrie. "The data that citizen scientists collect just helps us understand the bug better. And then if something has to be done to manage an outbreak, then people understand why."
Participating in the program is pretty easy. Citizen scientists are connected to a researcher in their area, given a trap to hang, asked to count moths once a week, and return the specimens to researchers- via mail. In the Algoma District collection usually begins at the end of June and concludes in August. The Spruce Budworm Tracker program is entering its third year and organizers are hoping to increase representation of citizen scientists in Northern Ontario.
Residents suited to serve as citizen scientists would live in forested communities and have access to forested stands. People living on the outskirts of the Sault or in rural communities in the North are ideal participants. "If there's an increase in spruce budworm activity, people that live in these types of areas will notice it long before people living in the city will," commented Dr. MacQuarrie.
Dr. MacQuarrie also remarked that individuals turn to insecticides to mitigate damage during spruce budworm outbreaks. Pesticides  may also be delivered in aerial applications by the province.
Would you like to participate in the Spruce Budworm Tracker program? Please see the press release below.
---
Working together to keep our forests healthy from spruce budworm: Citizen scientists needed for 2017 campaign
Natural Resources Canada's Canadian Forest Service (NRCan-CFS) is committed to keeping our country's forests healthy now and into the future. They're looking for citizen scientists to assist in a summertime project to track the spread of the spruce budworm moth in your areas.
The goal of the collaborative program is to understand the migration of the insect across the landscape and to get citizens thinking about the insects that live in the forest and the role they play in the ecosystem. Spruce budworm is one of the most damaging native insects affecting spruce and true fir trees in Canada so the better we understand its biology, the better we can understand the impacts it has on our forests.
During an outbreak, spruce budworm kills large areas of forest resulting in significant consequences for the tourism and forest industries. Current predictions indicate that a large-scale outbreak of the spruce budworm may develop in Ontario in the next few year.
This project will help researchers and forest managers better understand how populations of the insects grow, change and move across the landscape through the use of a collaborative, multi-province initiative and early intervention strategy. Trackers will be directed to a website developed specifically for this project
www.budwormtracker.ca
or can call
(506) 452-3507
.
In 2016, The Budworm Tracker program achieved around 85% percent return rate from its citizen scientists. Organizers are hoping to maintain or exceed last year's success rate in this year's tracking season.
If you would like to speak to Natural Resources Canada's about the
Spruce Budworm Tracker Program
(video) and how Canadians can help in maintaining a healthy forest in Ontario, please contact the following research scientists for an interview:
---