The phone ringing in the wee hours of the morning has him up and alert by the second ring. It's his mission to respond, to have the right advice and tools, and to get to whoever is calling as soon as he possibly can.
Dan Bigg, from the Chicago Recovery Alliance, knows only too well that the difference between life and death can be the amount of oxygen deprivation that transpires between the time of an opioid overdose and the time he is able to inject an opioid reversal drug, Naloxone, into the subject.
On the phone is a panicked young woman who has walked in on her boyfriend to find him unresponsive after injecting what she believes was heroin. He is unresponsive to stimulus, his breathing is laboured, his pallor grey/blue and she has no idea how long he's been this way.
Dan goes into high gear. "It's important that you listen and do what I'm about to tell you, you hear me?" He begins in a calm and reassuring manner.
"Okay," she answers with trepidation.
Dan instructs her to begin rescue breathing immediately and not to stop until he arrives with the drug. He understands that without oxygen, the patient is likely to be brain dead within the minutes regardless of whether the overdose is reversed or not.
He arrives and draws up 1cc of naloxone and injects it into the thigh of the boyfriend and instructs the girlfriend to now call 911, but she still refuses out of fear that either one or both of them could be arrested.
911 responders include fire, police, ambulance, each having their own, very different, mandates. Police involvement is the key reason for not seeking 911 services during a preventable overdose death, directly contributing to the staggering figures that show accidental overdose deaths exceed even motor vehicle deaths among people between the ages 25 to 64.[1]
Three, four, then almost five minutes pass, rescue breathing continues, but there is no sign that he's coming out of the overdose. Dan draws another 1cc and administers that. Seconds later with eyes now open but unaware of what has just taken place, another life has been saved.
Developed in the 1960's, Naloxone (Narcan) is a pure opioid antagonist used to counter the effects of an opioid especially in an overdose. It will usually reverse the depression of the central nervous system, respiratory system, and hypotension.

Opioids produce their effects by acting on opioid receptors in the brain and nervous system. Naloxone works by blocking these opioid receptors, thus stopping opioids from acting on them.

Naloxone has not been shown to produce tolerance or cause physical or psychological dependence. In the presence of physical dependence on opioids, Naloxone will produce withdrawal symptoms. However, in the presence of opioid dependence, opiate withdrawal symptoms may appear within minutes of Naloxone administration and will subside in about 2 hours. The severity and duration of the withdrawal syndrome are related to the dose of Naloxone and to the degree and type of opioid dependence.[2]
I had the privilege of meeting Mr. Bigg during the Overdose & Apathy Forum, we both presented at in Toronto last summer. His reputation preceded him as being one of the founding members and the current director of the Chicago Recovery Alliance (CRA). He is well noted as being one of the driving forces for the development of the first training model for naloxone use in non-hospital settings. He went on to see to the implementation of naloxone programs in outreach centres, as well as, sourcing funds to ensure naloxone was available for all who need it within the Chicago area.
The CRA operates under the mantra 'Any Positive Change'. When thought of in terms of harm reduction for illicit substance users, any positive change can be as simple as the substance user asking for a clean needle or vein care advice. It is seen as a positive and responsible step in their health care. However, many still consider abstinence to be the one and only answer and that reduction, maintenance or safe injecting is only enabling the behaviours to continue.
Harm reduction workers who spend their days and nights in the field, seeing things first hand, will affirm that this way of thinking only exacerbates the discrimination and stigma, further marginalizing this populous. They want you to know the very real affect that withholding life saving practices is having not only on substance users, but also on you and on society in general.
One thing I know with absolute certainty is that a dead addict has never gone to rehab. Harm reduction theory provides the care and the compassion to see those who choose recovery though the process that is right for them. That process can be made up of many different things or it may very well be abstinence, but it is left as the choice of the individual seeking help. It's a process of re-humanizing those that have been de-humanized by family, community, society and our health and legal system and keeps them alive long enough to perhaps make a different, better, or at the very least, safer choices for themselves.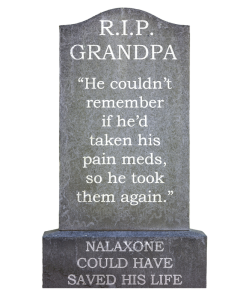 There is something else that should be considered. More accidental overdoses occur during licit, or prescribed, use of opioids than do with illicit use. Most of us have been handed a script for an opioid at some point in our lives by our physician, surgeon or dentist. Did that doctor also caution you about the importance of taking that drug 'only as prescribed'? Have you ever not followed the label on the bottle? Have you told yourself, "the pain requires just one more pill; it's close enough to the time I'm suppose to take the next dose; one drink won't hurt; or, I'll double up so I can sleep though the night"? Each scenario is a potential for an accidental overdose. Do you not think that you should have been co-prescribed naloxone at the time you received the opioid script, just in case?
Some amongst us, people we work with, perhaps a family or community member, are functioning in society while still maintaining their use of illicit drugs. Similar to the closet alcoholic, they use or maintain responsibly so that they can still be productive. Recently, some of them have found themselves at risk. A sharp increase in overdose deaths in 2014-2015 can be attributed to clandestine labs manufacturing and passing off desmethyl fentanyl for heroin, cocaine and oxycodone. With this version of fentanyl being 40 times more powerful than heroin, substance users, believing they are using their normal dosage of heroin, are instead overdosing and/or dying in mass.[3] [4]
In many circles, naloxone is considered to be an enabler; believing that the fear of overdosing should be reason enough to stop the illicit use of opioids.
A good number of politicians and policy makers, whom I've personally spoken with, regrettably had little knowledge of what naloxone was or how and why it should be made readily available to everyone. Even more frightening was their ignorance to the reality of the overdose epidemic that has hit Canada.
However, the ongoing ignorance to the issues of substance use isn't shocking to me. For the past three years I've done little other than do 'The Talk About Drugs'. While uncomfortable for some I have found many who have been grateful to be provided the information and views, which have been expressed. One of the first steps, and perhaps the most important one, is to talk openly and hear the words of each opinion without judgment. It's not about changing someone's mind; it's about making sure they've been provided all of the facts so that they can style an informed and educated opinion on the topic of addiction.
I had no knowledge of what naloxone was myself until I saw the word in a question on my daughter's autopsy report. "Was naloxone administered?" The response from the attending emergency room doctor beside the question was "No". She hadn't seen or recognized the signs of an overdose.
By her last hospitalization, my daughter Jac's addiction to opioids and her way of abusing them, as well as, her drug seeking methods had been well documented by the hospital in her records. Because Naloxone has no adverse affect, other than putting an opioid user into withdrawal, it could have safely been used as a first means of responding to Jac's unresponsiveness. I later learned that all the while that I sat there watching as my daughter's respirations grew shallower and she went into cardiac arrest, naloxone was right beside me in the second drawer of the dispensary cart.  
In the Coroner's recommendations under the Doctor's question regarding the administering of Naloxone he wrote: "It is recommended that the Hospital Quality Care review the care provided with attention to the use of Naloxone."
*****
Naloxone can now be found in an EpiPen style dispenser, which talks you though the steps of injecting. Click here for more information and a video demonstration: http://www.evzio.com/patient/index.php
[1] www.drugpolicy.org/911-good-samaritan-fatal-overdose-prevention-law
[2] www.drugs.com/pro/naloxone.html
[3] http://www.ccsa.ca/Resource%20Library/CCSA-CCENDU-Oxycontin-Fentanyl-Alert-2014-en.pdf
[4] www.elementsbehavioralhealth.com/drug-abuse-addiction/new-drug-desmethyl-fentanyl-40-times-stronger-than-heroin/