Season Ullr Bash at Searchmont Resort
Searchmont Resort is prepping for the winter season and wants to celebrate with everyone by having live music, food, drinks and of course fire this Friday December 9th, from 7:00pm-1:00pm. We want to kickoff the season, before it even starts, to embrace the Quad Lift becoming operational, being able to shred down the mountain, and be blessed with lots of good old fashioned snow this winter.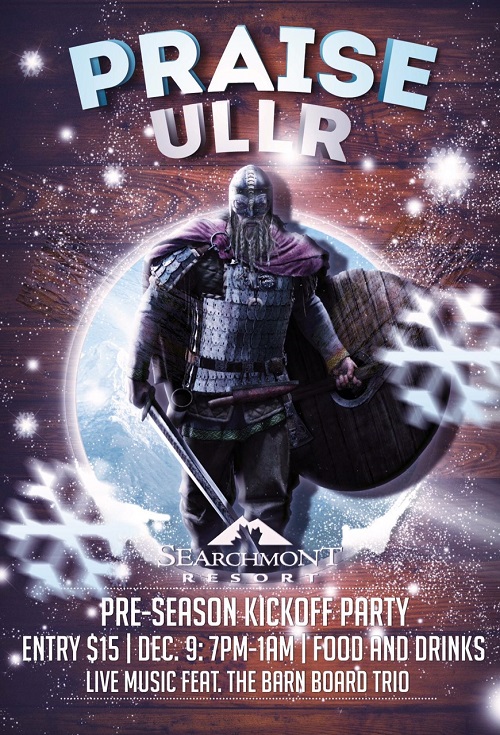 If you don't know who Ullr (pronounced Ooo-ler) is, you will by Friday! In Norse mythology Ullr, stepson of Thor, is the snow god who is seen on his skis and with his bow. We are honouring Ullr so he can honour Searchmont with as much powder as possible for our 2016-17 season.
We are having live music from The Barn Board Trio, food to keep you full, beer to keep you thirsty, and are lighting it up with a bonfire!
Tickets can be purchased for $15 at Duke Of Windsor, Velorution Bike & Ski Shop, or by Carole Stubinsky Searchmont Resort 103 Searchmont Resort Road Searchmont, ON. P0S 1J0 Toll-Free: 1-800-663-2546 www.Searchmont.com
More event details can be found on the poster below. For more information check out our website at www.searchmont.com or our Event Page on Facebook
To ensure you have the best time possible we want to accommodate those who want to stay longer with us, by having our blowout pricing on the Villas, but only for this event. Pricing starts at $99 for up to 4 people and $119 for 5 or more people (both prices do not include the applicable fees and taxes). To book to stay and save, please call 705-781-2340.
We look forward to starting the 2016-17 season off with good music, good food and good company #prayforsnow and Hail Ullr!
About Searchmont Resort
Searchmont Resort is a premiere ranked, regional training and recreation facility with high quality mountain terrain, amenities, events and entertainment. With scenic views, a 750 feet Vertical, over 100 amazing acres of natural, rolling terrain, and 18 trails.
With caring, knowledgeable staff and quality service, Searchmont Resort supports a healthy, active lifestyle by providing winter recreation for families, sports enthusiasts and competitive athletes of all ages. Visit our website at www.searchmont.com to learn more.
Searchmont Resort
103 Searchmont Resort Road
Searchmont, ON.
P0S 1J0
Toll-Free: 1-800-663-2546
www.Searchmont.com