I was completely charmed by Sam Luck. She is just 19 years old, a youth of surprising sagacity without a doubt, yet somehow still possessing a refreshing hopefulness for what the future has in store for her- and for the rest of us.
"We need more happiness in the world," said the young artist. She was sitting on a bench at Bellevue Park gazing across Topsail Island. "I like stuff that's going to make people happy. When I paint things for people and they love it and they're happy…" Her voice trails off. "Well, that's what I want. That's what I'm trying to get to. I just want to keep doing that. There's just too much angst in the world. We need more happiness."
Last summer, Sam returned home to Sault Ste. Marie after completing her first year as an Illustration student at Sheridan College. She was burning with a desire to create. "I wanted to paint everything and anything. I started painting outside. I really liked painting anything that had structure- like a bench. My mom said 'why don't you paint houses if you like painting architecture? People would love a painting of their house.'"
So that's what Sam did.
"For Mother's Day I painted the old house that we use to live in and I added in our dog that had passed away. And my mother said 'oh Samantha! You could do something with this!'."
So Sam started up her own little house painting business.
"I started taking photos of people's houses around the neighbourhood. I'd paint a picture of their house and then put the painting in their mailbox with my business card and a little note that said 'this is a gift but if you want to contact me to pay for it that would be ok too'. I painted about ten houses and then I started getting replies."
Below: a series of three portraits, among Sam's early commissions.
By the end of the summer of 2014, Sam had painted enough houses, cottages, gardens and heritage buildings to generate a four figure profit. Her style, open to interpretation of course, is whimsical and stirring. Enchanted by the animation of Disney, Pixar and DreamWorks, she pulls her inspiration from the films of her childhood. But one movie pierced her soul.
"My father always brought home movies for me to watch. Sometimes he would bring me animated Japanese films. One of those films was called 'Kiki's Delivery Service'. It is my favourite movie of all time. I just loved it. I was nine years old."
The movie was directed by Hayao Miyazaki. "I wanted to find more of his movies," enthused Sam. "I started watching all of his movies and then I would take scenes from his films and draw them." Her first dream was born.
So at the tender age of fifteen Sam went to Japan.
"I went on a Rotary Exchange. I lived in a little city outside of Nagasaki. The town was called Isahaya. I was so fortunate. They put me in an art school –Nagasaki Nichidai. It was a regular high school but it was so hard to understand math and science classes but I would go to the art classes."
Sam credits her time spent at Nichidai for the development of her portfolio that would allow her to gain entry into Sheridan College. Now having completed her second year Sam has returned home for the summer and she has begun scheduling her 'house painting' sessions.
Her delightful business allows her to hone her craft and in part the money she earns from it will be applied to her next dream.
"I want to work for Pixar and live in San Francisco," she said. She is moved by how humanity can be captured through animation.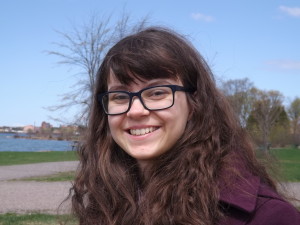 "I feel so much connection to films. They affect me on a very personal level. I want to be a part of something like that. I want to be part of a studio that's going to make lots of people happy."
A determined breeze blew across the St. Mary's River and picked up a piece of her long chestnut hair, wrapping it around the arm of her glasses. She unwound the rogue strand and tried to loop it behind her ear.
"I love what I'm doing. I couldn't do anything else. We need creativity in this world and creative people. We need to make people happy."
And so that is what Sam will do.
*****
Do you have a home, cottage or business that needs a paint job? Would Dad like a portrait of his hunting camp for Father's Day? Not sure with what to gift the new homeowner? Contact Sam at Samantha Luck's Home and Cottage Portrait's!
C: 905.808.6290