The awful certainty about a stereotype is that somewhere buried in the misnomer is a granule of truth. This past Sunday I wasn't seeking an unpleasant interaction with the driver of a gargantuan, black Hummer H3 but that's exactly what found me.
By Humvee standards the H3, as the smallest model built by General Motors, would be considered an entry level Hummer. Don't let yourself be lulled into a false sense of security- theories abound that drivers of Hummers, regardless of size, fall into one of two categories: Jerks Drive Hummers or Hummers Turn Drivers into Jerks.
Almost 75 inches in width without mirrors and 84 inches with mirrors, the H3 has a tight squeeze parking where the average width of parking spaces in North America range from 90 to 108 inches.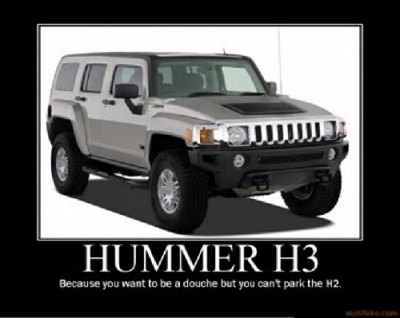 It was a gorgeous autumn day when I swung into a small parking spot at the Cambrian Mall and was feeling pretty cheerful. I had my windows rolled down to catch the breeze and as I was getting ready to head into the mall I caught an earful of disgruntled muttering through my passenger side window. I hopped out of the car and checked my distance between the yellow parking lines, checking my proximity to the H3 parked next to me and found it to be – in my opinion, an acceptable park job.
I carried on with my errands and returned to my van just as the owner of the Hummer returned to her vehicle. She resumed her audible diatribe that went something like, "are you kidding me?", "unbelievable!" and "what an idiot". I turned my head to glance out my passenger side window just in time to catch the diminutive owner of this rolling leviathan, who was standing between her beast and my van, slide her eyes towards my vehicle, and as she swung open her door with a 'bang' against the body of my van I observed a satisfied smirk crawl across her face as she tossed her chin upwards.
I'll add that what followed next was some mutual 'old-fashion type tweeting' and after a brief verbal spar we eventually parted ways.
A report released in 2009 by San Francisco based company, Quality Planning, for the purposes of providing information to insurance companies found that between 2007-2008 drivers of Hummers were 5 times more likely to receive tickets for traffic violations.
Dr. Raj Bhat, president of Quality Planning remarked of the report, "The sense of power that Hummer drivers derive from their vehicle may be directly correlated with the number of violations they incur. Or perhaps Hummer drivers, by virtue of their driving position, are less likely to notice road hazards, signs, pedestrians, and other drivers."
Mark S. Foster, author of "A Nation on Wheels: The Automobile Culture in America Since 1945" tossed in his two cents about the findings. "Hummer drivers feel like kings of the road because of their elevated driving position. As these statistics show, they are leading the pack when it comes to violating the law, which may reflect their driving attitude."
Production of the Hummer brand was discontinued in 2010 after GM filed chapter 11 bankruptcy when a sales agreement with Chinese owned company, Sichuan Tengzhong Heavy Industrial Machinery Company Ltd., went belly up. Faced with the unpleasant distinction of being the leading polluter and natural resource consumer in the world, the deal subject to the approval of the Chinese government, in conjunction with Tengzhong's financing troubles, plans to put the gas-guzzling behemoth on their production line fell through.
It was also in 2010 when the Ontario government announced the launch of the Electric Vehicle Incentive Program. The program allows "allows Ontario consumers to apply for a rebate ranging from $5,000 to $8,500 towards the purchase or lease of eligible, new plug-in hybrid electric or battery electric vehicles".
As of June 1st, 2015 there were 4,496 electric vehicles registered in Ontario and 4,190 rebates awarded. A complete list of eligible vehicles can be found here.
It has been noted that among the challenges associated with battery operated and electric vehicles is the dilemma of locating places to recharge. Responding to this need, the provincial government has offered a rebate up to $1,000 for businesses and homes that install charging stations. For the time being cross-country road trips could be a challenge. While it is true that EV's eliminate the need to fuel up, driver's sometimes experience 'range anxiety'. Most EV's can travel a distance of 75 miles before needing a recharge but topping up EV batteries can take an excruciatingly long time and God help you if you run out of battery juice where a charging station is nary to be found.
On the upside EV's never have to fill up at the gas bar and make fewer trips to the mechanics. EV's don't require oil changes and wear and tear on parts such as brakes are minimal. Want to sneak up on someone? An EV as is stealth as a cat- you'll never hear her coming until it's too late. Funnily enough, some American States are considering implementing some sort of 'noise alert' device on EV's to warn distracted pedestrians of their approach.
In addition to being more eco-friendly, drivers of EV or E-Hybrids tend to carry a bigger wallet. The initial price tag starting around $30 -$35,000 for a Kia Soul is still a bit dear for the average buyer. Mid-range EV's like the Tesla start at $93,000 before tax incentives and if it's an E-Hybrid your after be prepared to drop as much as $845,000 on a posh model like the 918 Spyder.
For readers that are still hell bent on their giant off-road all-terrain vehicles there's a glimmer of hope.
But before I continue I'd like to clarify that I believe in Canada everyone has the right to drive whatever they want to drive- even Hummers. I mean, hey, every lemon-balm-tea-with-vodka-infusion-travel-mug-toting-mom in Sault Ste. Marie should have the assurance that comes with driving around town in a jacked up Hummer capable of withstanding unexpected explosions from land mines and roadside bombs whilst on their way to stock up on a toilet paper sale at Shopper's Drug Mart.
Back in 2008, and just prior to bankruptcy and concerns about fuel mileage, GM introduced a concept mock-up for the next Hummer at the Detroit Auto show. Dubbed the HX (pictured above) this fourth version of the Hummer was designed to be built off GM's mid-size truck chassis. A January 2015 report from carscoops.com reveals that GM has begun seeking feedback from GMC dealers about a new model that would rival the Jeep Wrangler. Specs for the vehicle are cued from the HX mock-up.
More recently, Oshkosh Corporation – an American industrial company that designs and builds specialty trucks, military vehicles, truck bodies, and access equipment, was awarded 6.7 Billion dollars by the U.S. Army Awards to build a Joint Light Tactical Vehicle. Oshkosh Corp. reports that "the JLTV program fills a critical capability gap for the U.S. Army and Marine Corps by replacing a large portion of the legacy HMMWV fleet with a light tactical vehicle with far superior protection and off-road mobility".
Conjecture has it that yoga-pant-wearing-mom's everywhere are trembling in anticipation of the day a civilian version of the JLTV explodes on to the consumer market.