Though unpleasant to admit the men and women -and youth, who chose to pursue service in the military as a career, volunteer or as young cadet haven't always been treated respectfully by their own countrymen. Thirty years ago donning a cadet uniform or the attire of a soldier sometimes generated mockery directed at the wearer or at the least a confused shake of a civilian's head.
"In the early 80's when I was first with the military you would get teased for wearing a uniform in public. When I was a cadet at school people made fun of me," shared Lieutenant Colonel Eric Groulx. "That carried over into the 90's. People would not wear their uniforms on the bus to come down to the Armoury. They would carry their uniform in a bag and put it on when they got here because they would be harassed by folks who didn't understand what it was that we were doing."
Lt. Col. Eric Groulx joined the 49th Field Artillery Regiment in 1984 and rose through the ranks to become the 49th's commanding officer in 2002 – a position that he holds today. Groulx reflected on the cultural shift at the end of the 20th century that began transforming Canada's opinion of the Forces.
"I believe perception really started to turn around in 1998 with the ice storms –and perhaps in 1996 with the Manitoba floods. We were able to do so much for Canadians in Canada during that time. It really changed the image of the Canadian Forces."
Groulx led a group of about 120 soldiers from the Sault to Ottawa during the time of the ice storms. "I got a call at 2 p.m. on a Friday afternoon and by 5 p.m. all of our trucks were rolling out of here. We fought our way through all the closed highways to get to Ottawa to start helping. There is no question that the folks there were dedicated to getting the job done."
Groulx has spent 36 of his 48 years serving in some capacity with the Forces. When he was 12 years old he joined the air cadets where he remained until he was 18 years old. Joining the Canadian Reserves was a natural progression for Groulx and a helpful resource that offset some of the costs associated with a couple of university degrees- the first in Psychology and Philosophy from Algoma University and the second in Public Policy Administration from York University.
Following post-secondary, and still serving as a Canadian Reservist, Groulx experienced a well- rounded career as a civilian working for the provincial government at Queens Park, a lengthy stint employed with the Ministry of Social and Community Services and a good run with the Alcohol and Gaming Commissions.
"And then I felt that it was time to move on and I decided to hang up my civilian clothes for my uniform."
On New Year's 2007 Groulx was deployed to Khandahar, Afghanistan for a six month tour. For a short time he served as a liaison officer for the International Security Assistance Force Headquarters (ISAF). Once he fulfilled the duties of his position- primarily to facilitate effective communication among various organizations, he was offered a role serving as a liaison between ISAF and the police headquarters and military headquarters- no small task for just one man. As a liaison Groulx refined communication strategies between ISAF and Afghanistan police and military.
With only two days' notice Groulx established security among all three entities to ensure protection during the Mujahideem Victory Day parade. The annual celebration would draw thousands in military and audience making it an irresistible target for the Taliban. And sure enough the Taliban struck that day, directing rocket propelled grenades and explosives towards the parade and spraying the masses with bullets from machine guns and rifles.
"I was in the military operations centre when it began. We had a screen up to watch what was happening in the parade," Groulx recalled. "As soon as the firing happened you could see all the people running off the screen and hiding in the doorways right beside me."
Groulx facilitated the communication between ISAF, police and military- all ready to take immediate action. Groulx, with the assistance of an interpreter, coordinated a strategic response to the Taliban attack. "The process definitely proved its usefulness on that day."
During his 2007 tour redirecting unsuspecting patrols from ambushes, locating improvised explosive devices (ied) and sending in support to aid allies under attack were just a routine part of Groulx's day.
"I had just been on the job for a couple of days. We received intelligence that a patrol with the Afghan Army had been set up for an attack. The Taliban watched the patrol go by and then laid out a bunch of ied's and waited to ambush them on their way back. We were able to provide the resources to the Afghan Army to find the ied's on the road, disable them and dispel the ambush. We saved lives that day."
One evening Groulx was set up at headquarters when a request for assistance was issued by the Afghan police. Their checkpoint, patrolled by 40 Afghan police officers, somewhere in the north end of Afghanistan was surrounded by upwards of 200 Taliban rebels. Police officers, armed with just over three dozen rifles, were surrounded on three sides of their headquarters as they tried to hold off enemy forces loaded with mortar and rocket propelled grenades. They were taking casualties and they needed help.
"I was speaking over the phone with the Afghan commander who was on the ground. A translator was interpreting. While we were on the phone I had to get all the approvals in place. When everything was lined up I had him pull all of his people into the building – which meant that everybody else was coming now, coming to help. Once the officers had taken cover our air support dropped their ordinances. And 40 of the good guys didn't die that night."
Lieutenant Colonel Groulx returned to Afghanistan three more times after his first tour to assist the Afghan Forces in running their final exercises for recruits. Witnessing Afghan procedures firsthand enabled Groulx to develop a new series of tests that were more efficient. Groulx dismantled existing practices and developed more efficient exercises –with the assistance of an interpreter from Kabul, that the Afghan forces are using today.
"It was a great feeling that I was able to contribute in some way to empowering a nation with knowledge and skills."
Groulx has seen his share of action and according to him in the Canadian Forces action is the exception.
"I would suggest that about 90% of military work has nothing to do with direct combat. About 90% of what we do is to move people and equipment to the right place at the right time so that we don't have to do the combat. We train our Force, make sure we have the proper equipment and position our capabilities in the right place so that the bad things don't happen. If you're not there the bad things are going to happen."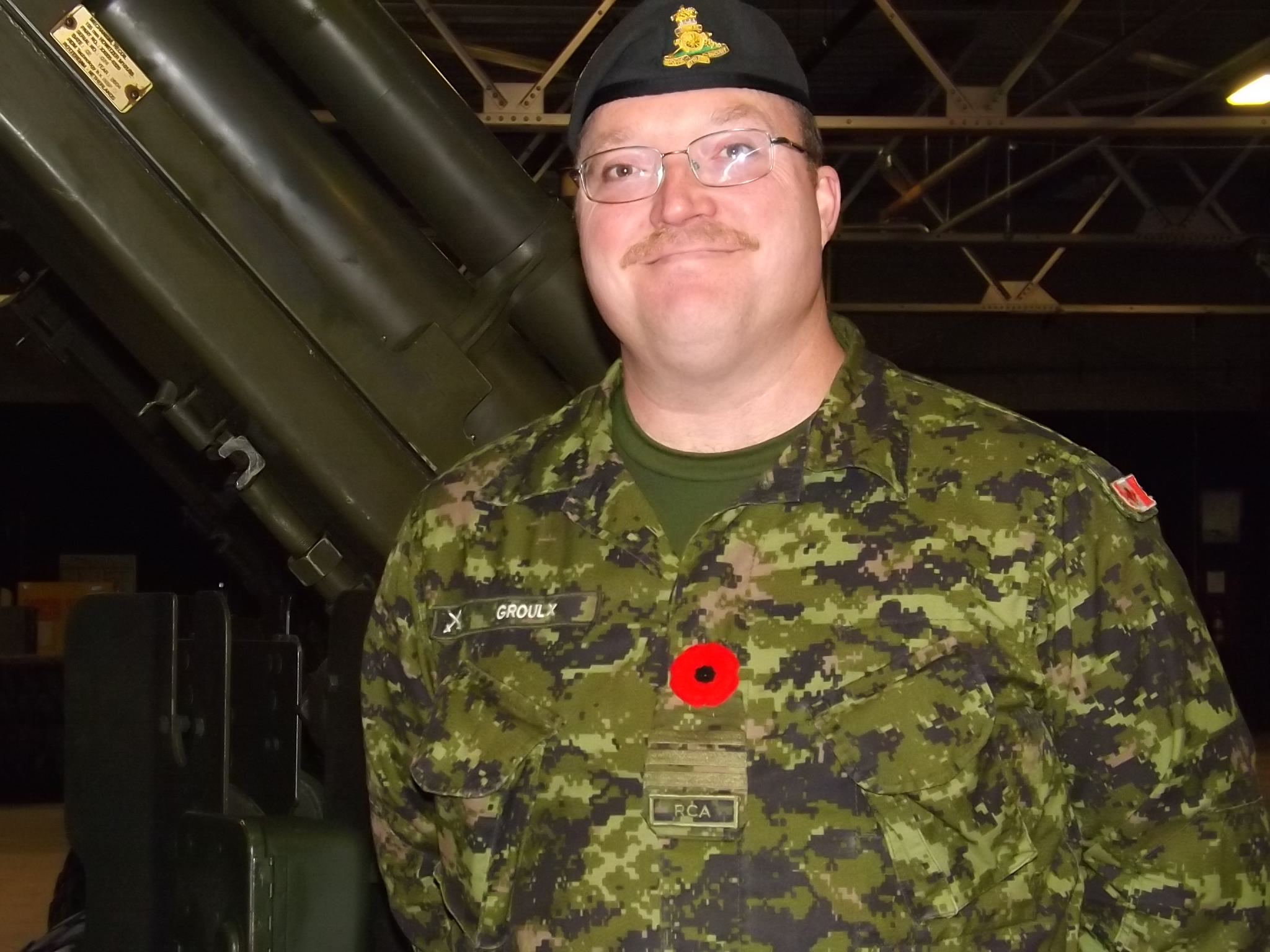 Reflecting on the inherent dangers of the job Groulx believes that the number of people killed in industry other than military is not so disparate.
"Media makes a very big deal of our injuries and our deaths. I would suggest that statistically it is not far more dangerous to be in the military than it is anywhere else. However, that is not to belittle the conscious risk our soldiers take every day. It's one thing to be killed in an occupational accident – you're certainly not expecting that but you don't put it in your mind that you're taking that risk. Whereas when a soldier is putting on their flak vest and ballistic plates and their helmet and carry a rifle to another place where they know that there are people that want them dead- it feels a little different than putting on your construction hard hat and going to the work site."
When he's home, according to Groulx, he and his comrades are training. In case you ever wondered – that's what's going on when you drive by the Armouries on Pine St. in Sault Ste. Marie. "Our job as reservists is to be ready for a situation that may occur. We are an artillery unit and there are also elements of a service battalion here. Our Artillery Forces train on basic combat functions and operation of artillery. We train people to become soldiers."
But sometimes duties at home take on a more heartbreaking weight, like the morning that Lieutenant Colonel Groulx received a call from Ottawa to get himself to Sudbury to deliver a death notification. A young soldier serving in the Forces as a medic, and by a mother's opinion- still a baby, was killed en route to deliver aid. The 21 year old soldier and his commanding officer were killed by an ied on the road.
A father of three children, that at the time were not much younger than the soldier killed, Groulx did not hesitate to accept the obligation to carry out the very difficult task of informing the family that this very young man, their loved one had died in service to his country.
"I remember this poor lady, this poor mother. She just grabbed me and hugged me. She was crying and she just kept saying over and over again 'he's just a little boy. He's just a little boy.' It was very sad. It was a very tough day."
Lieutenant Colonel Groulx is a man that is proud to serve his country. To the civilian his sense of duty and sacrifice may seem colossal in comparison. But Groulx wouldn't agree – because he is a humble man too.
"I think that everybody- the majority of people have a sense that they do want to contribute to their community. They want where they live, work and play to be a better place. I chose to do this through my service in the military. It's been a privilege. I feel very grateful that I have had the opportunity to be of service and to give something back to my nation."