In the past several weeks, community members have generously donated towards the survivability of the Northern Hoot. I launched the Northern Hoot two and a half years ago wanting to provide Sault Ste. Marie and Northern Ontario with a slowed-down, research-based approach in writing the stories that matter to all of us. This style of journalism takes time that is not often afforded to writers who are pressed to produce content quickly to suit an antiquated business model for online news that serves the interests of advertisers. I am very grateful for individuals and advertisers who believe that the Northern Hoot is worthwhile and worth supporting –thank you so much!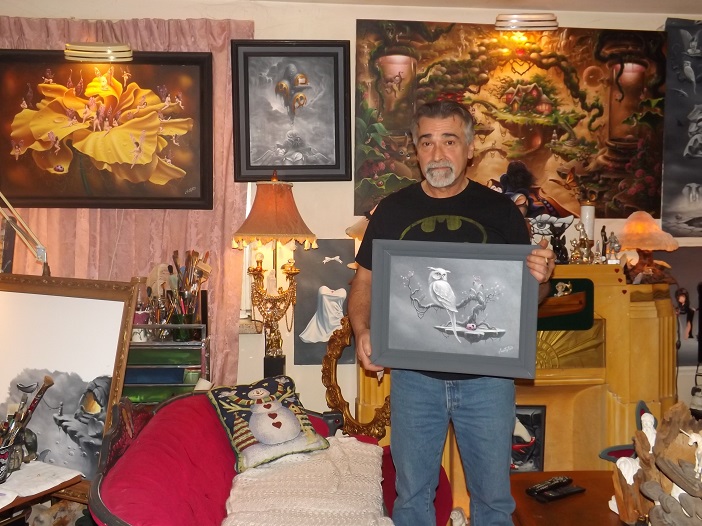 Christopher Pollari is a humble man. He doesn't seek a spotlight but loves sharing his passion -painting, with the world. With a following of nearly 5,000, Pollari showcases his one of kind masterpieces on his Facebook platform. He calls his style "lowbrow art" described by Wiki as "an underground visual art movement that arose in the Los Angeles, California, area in the late 1970s. It is a populist art movement with its cultural roots in underground comix, punk music, and hot-rod cultures of the street. It is also often known by the name pop surrealism."
"I'm part of the Pepsi generation," he softly laughs. "That's when pop-art came around."
I'm too ignorant to be conversant about art but I know when I like something. Last week I was scrolling through Facebook when Pollari's striking owl painting popped up in my newsfeed. I gasped. The expression on the owl's face is intense and the mood of the painting reminded me of many of the stories I have written, often reflecting mankind's darkness and light –apologies for getting so heavy! And I also loved it because –well, owl!
I was completely unprepared when I read the description below the Facebook picture of Pollari's painting, "Fundraiser painting for The Northern Hoot….oil on canvas…12×16 inches," Pollari had written. I got a bit emotional.
Earlier this month a Facebook platform, Sault Buy Weekly, had organized an auction fundraiser for the Northern Hoot. Many people donated lovely and practical items, original works of arts and even a ham dinner towards the online weekend event.
This weekend, beginning Friday around 4 p.m. and ending Sunday 3:59:59 p.m., people that love Pollari's work and people that love the Northern Hoot, can bid on Pollari's owl painting.
It is also a rare opportunity for people who are interested in acquiring one of Pollari's originals or want to add to their Pollari collection. Pollari, who possibly donates more of his work to causes he is moved by – like the Canadian Cancer Society, than he sells, admits that sometimes parting with his paintings is difficult.
"These paintings are my little world," smiles Pollari. And indeed, when you step into Pollari's studio, as I had the privilege of doing this week when I picked up the gorgeous owl painting that temporarily hangs on my kitchen wall –I'm going to miss it, you are surrounded by the fanciful renderings of Pollari. His walls are covered, in some places layered, with his paintings. Angels and ladybugs, dark jungle vines and pink flowers, and fuchsia raspberries and lips, and water droplets to quench your thirst right from the canvas, everywhere.
"I could sell everything in here and I'd be in an empty room with a white canvas," says Pollari opening his arms. "I'd go crazy."
And though he gets requests for them often, Pollari does not paint commissions, knowing that one commission would obligate him to paint another commission and another and another and so on. Pollari is inspired by his partner in life and his muse, and prefers to paint what is personal to him.
"I'm recording my life in paintings," remarks Pollari. "It's historic."
*****
Interested in bidding this weekend? Please find Sault Buy Weekly on Facebook and send a request to join the site- it's easy. Don't like Facebook? Have a friend bid on your behalf!
Many thanks again to Christopher Pollari for this breathtaking donation and many thanks again to the administrators at Sault Buy Weekly –Kelly Turner, Karen Swyers, Joanne Nadon and Anita Mitchell.