Deftly moves the moose. They are an inspiration. We can be their protectors. Paddle quietly, keep vigil, protect their land. ~ Brian Mealey
I was born and raised in White River and it continues to be my favourite place. I return often. My Grandfather was Joseph Depew. The Depew family moved with the CPR as it was being built from Cartier, Biscotasing and lastly to Snowbank (White River). Of their 13 children, 11 were born in White River between 1887 and 1909. My Mother and I were both born in White River. We are truly native born.
In those early years, 1898, two of the Depew boys, George and Frank, were transporters of food and supplies for McDougall's Store in White River to Paint Lake and Paint Creek on the north east side of the Puckaskwa River. Exploration for iron ore was in process. George worked with Jimmie Kash (Big Shoes) and they thought a shorter way to the 'discovery' would be to come from Heron Bay to the mouth of the Puckaskwa and then travel 20-25 miles north east of Lake Superior, passing over Tip Top Mountain. In the year 1900 they set off from Heron Bay with Chief Desmoulin in his sailboat. One might want to read my Uncle's journal for the rest of a very interesting read.
Many years later my brother Larry and I followed suit, prospecting in the Puckaskwa area. This prompted my friend, John Fowler, and I to establish canoe and outfitting in White River (Canada North Outfitters on the road to Hornepayne). I also built tourist camps at Picnic Lake, Keeagama Camps. The favourite canoe trip of many clients was from White Lake to Superior on the White River. This route has been somewhat ruined by power dams, a wasteful use of our resources. Our Province already has a surplus of power yet continues the senseless destruction of our environment, now with Wind Turbines.
Eighty years ago, Abitibi and Austin Lumber developed roads that gave access to many lakes and rivers. The ongoing process of harvesting our forests and building access roads has caused moose to be seriously compromised to the point of near extinction. In the 1950's canoeing on the White River from White River to Pokei Lake, one would see at least 20 moose each way. Today you would be lucky to see any. If Ted and Noel Bananish, Johnny Cook, and the Willoughans, who knew the Pokei Lake area, were living today, they would surely back up this statement.
Lumber companies are opening vast areas that could only be somewhat accessed by rail, air, foot, and canoe. Now ATVs, trucks, skidoos etc. have almost complete access. Continuing development is changing forever the dynamics of our once sacred land and the home environment of wildlife. If roads are accessed it should not be for the almost complete depletion of game and fish, depletion that is not monitored or reported.
When moose and bear return to their once forested land, now clear-cut, they are completely vulnerable. Road access to newly cut over areas should be closed to hunting for several seasons until the forest returns. To use new clear-cut roads to harvest animals such as moose and bear is morally wrong. Hunting at night with lights on top of a truck or ATV on access roads developed by Lumber Corporations is not traditional hunting. Leaving parts of an animal that may be inconvenient to carry is traditionally wrong. The moose population is plummeting drastically. Prior to the MNR moose hunting season last year local rumour has it that 70-80 were taken in a few weeks. This is not hunting. It's a slaughter. The Native community (Keepers of the Land) could and should be the leaders in protecting wildlife and bring everyone on to develop policing regulations.
Perhaps the local First Nations Chiefs and Councils would consider applying a moratorium on moose hunting. It could apply to everyone. The MNR and Ontario Government should get involved. The last moratorium on moose hunting in the 1940's -1950 produced positive results in restoring moose numbers.
We now have a group of people in White River who pander to the idea of using our forest extraction roads to establish nuclear waste locations. Do they view our magnificent forested land as useful only for burying waste? Once established we would become famous as Ontario's destination for industrial garbage, thus attracting ever more waste. I can think of many of my friends Native and non-Native, living and deceased, who are or would have been dismayed by current so called 'developments'.
In the beginning the Tookenays lived in wigwams from Picnic Lake (Kobinobakeeagama) to Little Tookenay Lake, and later in the last house on the Picnic Lake Road. Perhaps White River should acknowledge the significance of the Tookenay family in the history of White River.
We need to look after our land and its inhabitants. When there are large extractions of timber we need to protect the wildlife now exposed to destruction. We have seen its destruction in so many areas, none worse than the Pokei Lake area.
*****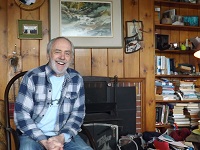 About the author: Brian Mealey was born in 1937 in White River, half way between the Sault and Thunder Bay. In those days travel was by CPR Rail, however canoe was and is his favourite mode of travel in the bush. Having been an intense hunter, fisherman and general bushman, he has learned to be a protector of all living things, particularly of moose. Most of his stories are drawn from his experiences travelling, working and playing in the Northern Ontario bush.
You can find more stories by Brian Mealey by clicking here.