A personal narrative by Melody Hawdon
Shoes, shoes and more shoes!
To say I have a love and obsession for them would be an understatement. I hoard them. There I said it I am a shoe hoarder! This is something my humble and practical mother would just shake her head at. Realistically speaking she felt the need for more than one good supportive pair was not needed and heaven forbid that you pay over $25.00 for a pair. The odds were stacked against me to get my dear mother to conform to the fact that the beauty in a shoe is worth any cost.  That was until the day that my gain of converting my mother turned into the greatest loss of my life.
My finding of Fluevog could not have happened at the worst time but it buffered and helped ease what turned out to be the most heartbreaking event in my life. The journey to find 'those shoes' helped me transfer my loss to a gain. But it wasn't the shoes that added the finality to my journey but the kindness and sensitivity of a fellow shoe (and Fluevog) lover.
The transaction for these shoes took place via Fluevog Market Place- a place for shoe obsessed people like me, to find used Fluevog shoes.  I found them- 'the shoes'. I bartered and then the agreed upon price was confirmed and monies sent. All that was needed was the address to send me the shoes. With that I decided to share my story with Sharyn, the woman that I bought them from, and what transpired after is pure kindness that had no boundaries.
Below is the email I enclosed with my address to Sharyn.
Hi Sharyn:

I am very excited about the purchase of the shoes. If you don't mind, I want to tell you about my journey for these shoes.

In August my mom was diagnosed with terminal cancer. The doctor came in and told us. We were shocked and nobody wanted to say anything. The doctor kept asking us to ask the questions necessary but my mom and I just kept looking at each other speechless.

Silence is a killer.

To fight back the tears I looked down at the floor. And that's when I saw 'those shoes' -Queen's Transcendent by Fluevog, on the doctor's feet. I then asked her where she got such beautiful shoes. My mom looked down and also agreed on the unique look to them. The doctor was taken aback at our curiosity over her shoes and our inability to talk about my mother's terminal cancer. We laughed and continued to focus on the shoes, not the grim diagnosis.

For the next 4 months my mom and I talked about 'those shoes', not cancer. We searched eBay, Craigslist, Kijiji and Fluevog Market. It was fun, and we agreed that I could never pay full price. She said, "It's not practical. You don't make what a doctor does."

My mom passed away on December 11, 2013 after the most courageous battle with cancer.

My Dad and I decided to continue our hunt for 'those shoes'. I searched all the sites, even updated my facebook status about our hunt, with each day determined not to give up. We told her we would find them, and at a good price.

I hope Sharyn, that this brought a smile to your face.

Sincerely,

Melody Hawdon
Sharyn responded with appreciation and condolences and satisfaction that these beloved shoes found a good home.
It was the end of the search. I found the shoes. I succeed in the final journey that my mom and I started together.
When I received the notification that my parcel had arrived my heart sank and I was unable to pick them up.  At that moment I realized that it was over- my last connection that my mom and I were ever to have.  I couldn't go get them. I just wanted one more moment to discuss it with my mom. I wanted her so badly to be there when I opened the box and I just wanted her.  I didn't want an end at all. I would give all the shoes in the world back, just to have her.
I received an email from Sharyn asking if I picked up the shoes and how I liked them.  I knew that I needed to pick them up and thank this woman for giving me her time and most of all her kindness.
I picked up the shoes, to my surprise Sharyn had added a beautiful card with sincere words of appreciation for not only my loss but the meaning that this journey held for me. She also refunded some of my money- each shoe was stuffed with the bills. I can't put into words the emotions that overcame me.  This was purely unexpected and not necessary. A total stranger from another country crossed the borders and connected with me and all for the love of shoes! (Of course not just any shoes- FLUEVOG shoes).
I was so touched by Sharyn's kindness that a week later I decided to post the transaction on the Fluevog website. I wanted everyone to hear how a pair of shoes brought us together during such a tragedy. And then!!  The following email was sent to me by Fluevog:
Hey Melody!

When you shared your story on our Guestbook at the beginning of March, we were so touched by such a show of kindness and strength that we shared it with the rest of the Design Office.

On behalf of everyone at John Fluevog Shoes, we want to say that we are sorry for your loss and also thank you for reaching out and sharing your story with us. I can't imagine how difficult a time like that must be, and we're honoured to have been able to become a part of your journey.

If you would allow us the honour, we would love the opportunity to name a shoe after your mother. It's stories like yours that remind us of how beautiful human connection can be, even in the face of tragedy. Although your mother is no longer with us, it would be wonderful for us to know that maybe one day her shoe could inspire others through a difficult time of their own.

Regardless of your response, we can't thank you enough for your story! We wish you and your dad the very best.

Sincerely,

Roxanne Kropp John Fluevog Shoes, LTD.
Of course my family was ecstatic and we accepted this as an honour. I replied immediately, with 'yes yes yes'!!! I was informed that I would be contacted within the next few months to start the process and with any luck this time next year there will be a shoe dedicated to my mom.
Her heart no longer beats with us and her presence is missed and mourned greatly, but women from all over the WORLD will be walking with a part of her. Her courage will be kept alive with every step that is taken in each shoe, for she lived and died with dignity, courage and strength- right up to her last breath.  My mom will live on.
Melody's story doesn't end just yet and on May 12th, 2014 she received an update from Fluevog. Below is the email from the shoe company (but not just any shoe company- Fluevog!) and her response.
Hi Melody!

I'm sorry that it's taken me so long to get back to you, but our designer/shoe-namer was away working with the factory in Mexico! (Lucky guy). He's now back, tanned, and would love to know your mother's name so that he can name a shoe after her! Unfortunately, John and the Design Team are really organised, and they've already named all of the Fall/Winter '14 Shoes. I personally feel that a Spring/Summer shoe would be more appropriate any way, don't you?

Please get back to me when you have a moment. No rush 🙂 I'm sorry that it will take a while to see your mother's name on our shoes, but I'm still very excited that we will! If you need anything in the meantime, please don't hesitate to contact me any time.

Yours in Fluevogery,

Roxanne

—  JOHN FLUEVOG SHOES Unique Soles For Unique Souls www.fluevog.com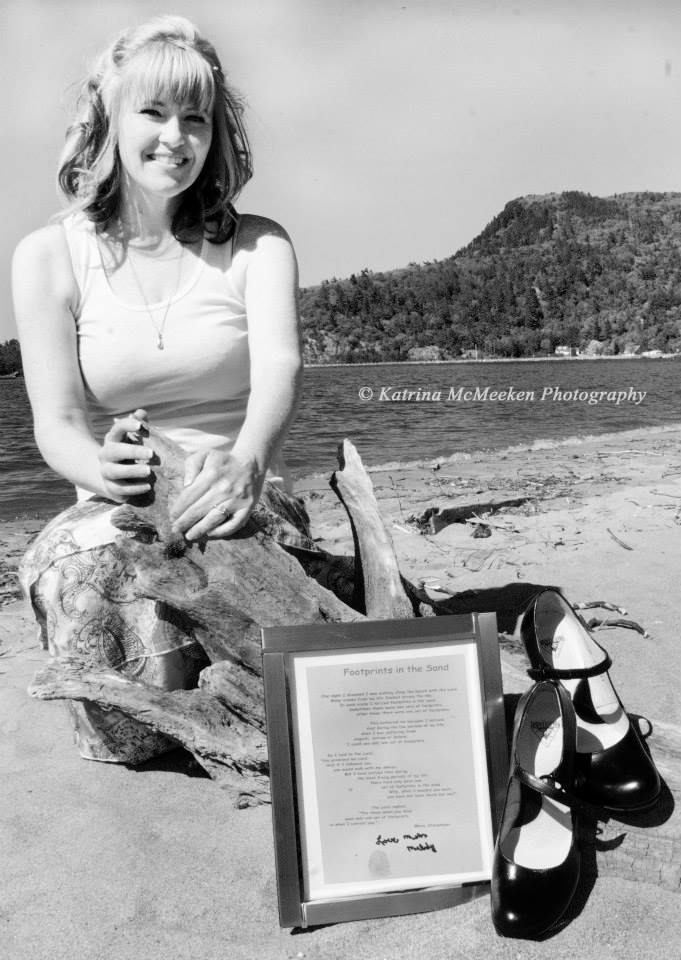 Hello Roxanne:

Thank you for the update! It was very timely to say the least, and right around mother's day. It could not have come at a better time.

As you can imagine my family is ecstatic about the news. We could not be happier at the timing of the release. Personally I am very delighted that the "shoes" will be out in the spring.

To add to the story, in September when we were certain that my mom was not going to make it, my wonderful partner decided that he would ask me to marry him. The plans were in the works, but a more romantic and exclusive proposal was what he was planning.  BUT life changed that for us. He decided on the spur of the moment to ask me to marry him and he included my mom.  They had a nice chat and he brought me to her place so that she could be a part of the proposal.

No romantic getaway or whirlwind excursion will ever replace having my mom not be a part of our event. We only told close friends and family, as you can imagine you can't celebrate happiness in a time of such sorrow.

So this June we have engagement photos booked and I will be wearing my Queen Transcendent shoes, for the very first time!  This is how we will be announcing our engagement.

Our plans are to get married August 2105, which is why I am excited that the shoes will be spring/summer.  I plan on wearing "the shoes" down the aisle.  I look at it as if my mom will be walking with me down the aisle.  No matter the colour style or design I will wear them with pride and excitement.

My mother is Linda Dorothy Clayton (Nee Bell). And she would say Linda with an 'i' not 'y'.

Her favorite colour was any shade of BLUE (disliked green with a passion).

She liked the song 'Linda on My Mind', and her wedding song was 'I Can't Help Falling in Love'.

She read thousands of books, never stopped reading.

And family was the most important thing to her.

Would you please let the whole team know how appreciative we are that my mom has been chosen to have a shoe named after her. Our family sits with anticipation and has something wonderful to look forward to.

Again thank you so much.

Melody
Linda was married to her dear husband, Brent Clayton, for forty years and they remain best friends forever. She was very close to her granddaughter, Autumn Dear, and she adored her young grandson, Sullivan Clayton. Each of her three adoring sons, Scott Hawdon, Brent Jr. Clayton and Ryan Clayton, intend to buy a pair of their mom's shoe in her size next spring.