"He has now put a person that could otherwise live in community, in a position where she must go in a nursing home. Housing has managed this so poorly that they have now left a forty-seven year old woman who is disabled with nowhere to turn and not the opportunity- which is her right, to live in community and as independently as possible."
The comment, delivered with fervor, comes from Lynn Leclair, regarding the decision ultimately approved by Mike Nadeau, Commissioner of Social Housing, to proceed with the eviction of her niece, Valerie Belsito, from a rent geared to income unit (RGI) provided through Social Housing as managed by the District of Sault Ste. Marie's Social Service Board (DSSAB).
Valerie Belsito, who is wheelchair bound due to symptoms associated with multiple sclerosis, has until April 14th to find accessible and affordable housing in Sault Ste. Marie- and so far that seems nowhere to be found. Multiple sclerosis is an unpredictable, often disabling disease of the central nervous system which is composed of the brain and spinal cord.
Valerie has lived in the same RGI unit for sixteen years. Over time, as her physical condition has deteriorated, the unit was retrofitted to accommodate her needs. Her home, for however long it remains that, is completely accessible.
Valerie receives an hour and a half of homecare each morning and half an hour of homecare each evening. Personal support workers assist Valerie with personal care needs and daily exercises. Her twenty-one year old daughter lives with her and has been acknowledged by Valerie's family doctor as her mother's primary caregiver. Her daughter ensures that her mother's meals are prepared and assists with pressing daily needs as they occur. At one point, Valerie's son, who is also listed as a primary caregiver, was living with her for a period of time. However, he goes to his mother's home throughout the week to assist her to bed later in the evening.
"If he didn't," remarked Valerie. "I'd be in bed between 5 p.m. and 6 p.m."
Having her daughter and son declared as her primary caregiver was significant in that it allowed Valerie to retain her full disability pension- about $1090 per month, regardless of her children's income- should they generate one.
However, what is affected by her children's income, if they live with her, is the monthly rent amount in her RGI home. Valerie was not aware that when her son began working at some point in 2013, that she was required to claim his income each month.
"Their income doesn't affect my disability pension. I just thought that would also apply to my housing. I'm in geared to income housing because of my disability," explained Valerie.
Among reporting obligations as per the DSSAB website, those receiving an RGI subsidy must report income changes within thirty days of any increase or decrease in monthly income. Rent in RGI agreements, are adjusted to accommodate the needs of people who experience fixed income, low-income and inconsistent income, thereby providing access to decent and affordable housing.
A LITTLE BACKGROUND INFO (Warning: Moderate Level of Difficulty. Brace Yourself)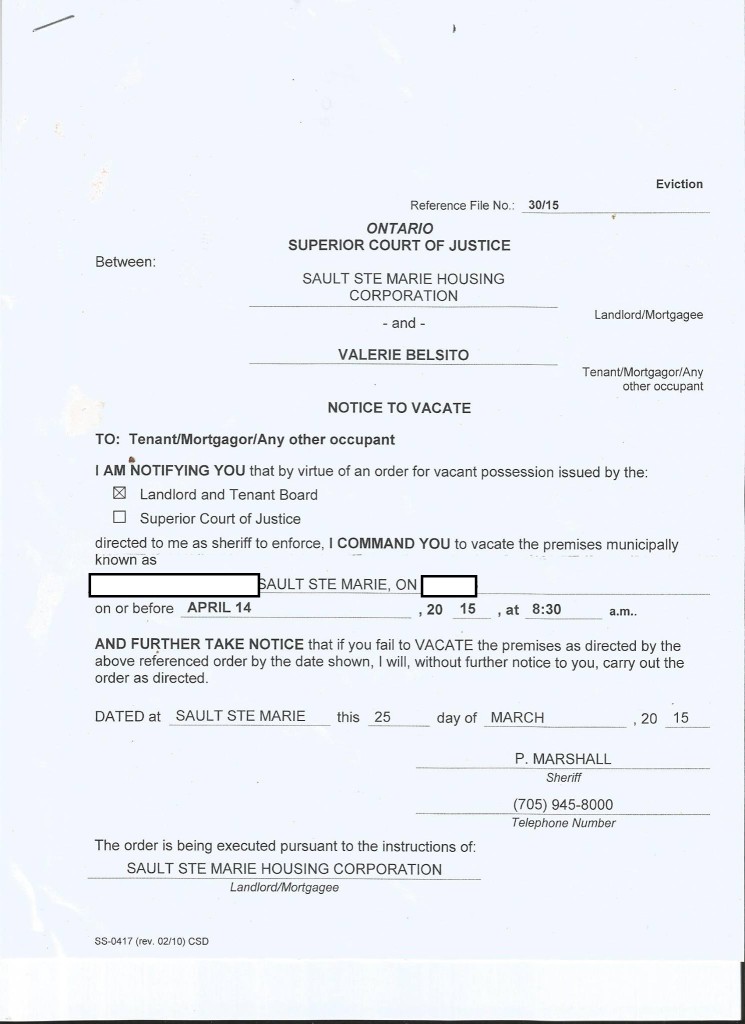 When Valerie signed her lease renewal in 2014 and provided information about her son's employment she was taken aback to learn that not only was she expected to have been reporting his earnings all along but now she would be responsible for settling the back dated arrears.
The challenge in producing several thousand dollars that was owing in arrears while on a fixed income was further exacerbated when her daughter was also asked to procure receipts for a cash paid position she acquired in 2014 and additional back dated arrears were accumulated. By this time Valerie's son had moved out. Valerie's rent was adjusted to reflect her $105 contribution as well as her daughter's portion of rent based on her earnings which brought the monthly rent up to $511.
Documents show that on June 1st 2014, Valerie was $169.94 in arrears to Social Housing. Adjustments to her rent ($511 per month) for June and July 2014 and then an increase to full market rent to the tune of $1200 per month in August 2014 put her $1670.95 in arrears. By November 1st, 2014 she was $5165.95 in arrears.
During the fall of 2014 Valerie was advised that she must pay the arrears owing or SSM Housing would pursue an order for eviction before the Landlord and Tenant Board on November 13th, 2014. They also outlined a list of conditions that should be met before that date
On November 13th, 2014 the Landlord and Tenant Board gave consent for Valerie's eviction effective November 30th, 2014. The order states that, "If the unit is not vacated on or before November 30th, 2014, then starting December 1st 2014, the Landlord may file this order with the Court Enforcement Office (Sheriff) so that the eviction may be enforced."
Valerie's eviction is final. She has no further recourse on the matter.
According to the Residential Tenancies Act, 2006, S. O. 2006, c.17, 81., "An order of the Board evicting a person from a rental unit expires six months after the day on which the order takes effect if it is not filed within those six months with the sheriff who has territorial jurisdiction where the rental unit is located."
This means that SSM Housing could have chosen to put in motion her final notice of eviction as early as December 1st, 2014 or as late as May 31st, 2015.
On March 31st, 2015 Valerie received her hand delivered eviction notice with orders to leave the premise by April 14th, 2015. At that time she also received in invoice in the amount of $325.13 due to pay for the delivery of the eviction notice. According to the Landlord and Tenant Board, if Valerie does not vacate the unit by that time, a Sheriff will escort her off the property. Valerie will have 72 hours to remove her belongings from the premise before Housing changes the locks on the house.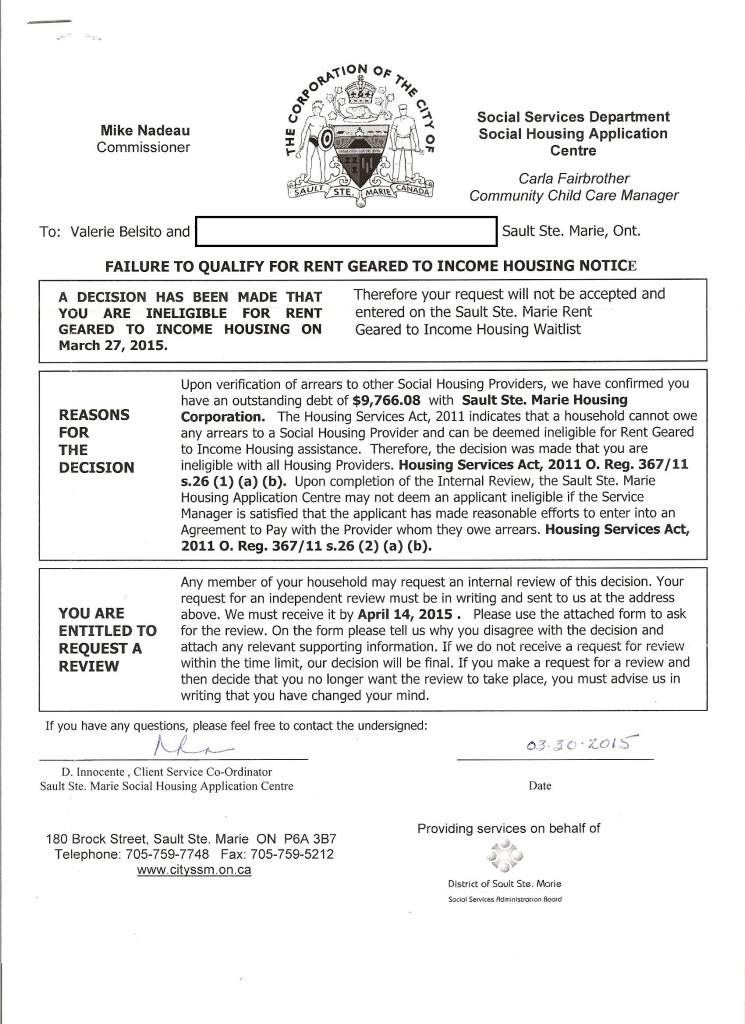 On April 1st, 2015 Valerie received a notice from the Client Service Co-ordinator with SSM Social Housing and Application Centre formally letting her know that she was ineligible for RGI Housing due to an arrears of $9,766.08.
Valerie can request an internal review of the decision relating to the arrears owing but must do so by April 14, 2015.
An outstanding arrears would place Valerie in the precarious position of being sentenced to hospital or a nursing home if, and more likely when, she requires social housing again.
Valerie will simply never have the ability to cover almost $10, 000 dollars in back rent.
"Given the circumstances and the nine grand owing, she will never ever be able to go back to social housing. So she is deemed to a healthcare system that is less than adequate," remarked Lynn. "She has nowhere to turn to because of the unprofessional and poor management of Sault Ste. Marie's Housing services. It's a disgrace."
*Though several attempts were made to speak with representatives from SSM Housing on the matter of Valerie's situation, as well as on the separate matter of the availability of accessible and affordable housing in Sault Ste. Marie, all requests were deferred or denied. Mike Nadeau declined to comment on Wednesday, April 1st, 2015 to the request of a phone interview regarding either matter.
*On Thursday April 2nd, 2015 he also declined to comment to a written request for an interview about local housing issues stating in his email, "As advised during our telephone conversation yesterday, due to the understood nature and context of your inquiry, the Department of Social Services is not able to provide comment at this time."
*A request for comment regarding issues pertaining to local housing from various DSSAB Board members was also declined or went unanswered.
"I feel so sick. I don't even know what to do. I can't just go anywhere. There isn't any accessible housing in Sault Ste. Marie," worried Valerie.
Valerie has spent several days looking for accessible housing offered through non-profit organizations such as the Knights of Columbus but as expected the waiting lists for such units are in excess of two years.
Willing to give up safety as well as accessibility Valerie has explored mainstream housing options to find the physical barriers overwhelming.
"Sometimes I can make it into the unit but there are often stairs that lead to the bedroom and bathroom or I just can't maneuver my electric wheelchair around. The guy at Housing asked me why I just didn't go and live with my family," shared Valerie. "Well, the first challenge is that their housing isn't accessible and I don't want to upset their routines. I have girls coming in and out twice a day to help me with personal care. And I want to live independently too."
Valerie expressed that she feels a lot of guilt about the situation and how it is affecting her son and daughter.
"The kids are so worried. I feel like I put this cloud over their head. I just feel like a piece of garbage."
THE REALITY OF ACCESSIBLE AND AFFORDABLE HOUSING IN SAULT STE. MARIE
Time is running out for Valerie and she isn't the only one that is worried about her looming situation of homelessness.
Gary Vipond, Executive Director of the United Way of Sault Ste. Marie, is very aware of Valerie's situation. Avoiding the 'specifics' of the case Gary expressed his concern for Valerie and also shared the United Way's theories about the prevention of homelessness.
"Our goal is to do whatever we can to try to help people retain their housing because there is so little housing availability out there," Vipond remarked. We don't want to see people leaving where they live unless it isn't safe to remain where they are. If you have housing that is suitable we have a better chance of keeping someone in that house than we do of finding them another place to live."
This common sense philosophy is given notable attention throughout a report entitled Sault Ste. Marie Housing and Homelessness Plan Update. The report was completed by OrgCode Consulting Inc. but was an augmentation of the draft report entitled 10-Year Housing and Homelessness Plan completed by DSSAB in 2013.
The Sault Ste. Marie Housing and Homelessness Plan Update stresses the 'Housing First' approach which according to the report, simply means that "housing is the only solution to homelessness" (p.39). The report goes on to say that "implementing a Housing First approach and developing a cohesive system of support for people who are homeless or at risk that aims to help them return to and remain in housing requires a number of changes in practice and tools".
Among the very lengthy list of recommendations is a strategic direction to 'Foster the Development of an Integrated System of Housing and Homelessness Services'. An objective of this goal is that "all homelessness services and staff and ancillary service staff participate in joint professional development to ensure alignment with best practices" and to that end that an action item be struck to "develop a shared professional development plan among the housing and homelessness service providers focused on implementing the principles of Housing First" (pp. 48- 49).
While the above report is a dense 64 pages, the document makes very little reference to the issue of accessibility and housing. Throughout the report there is occasional reference to the Sault's aging population and therefore the eventual need for increased accessible housing, however, the sense of urgency of the need now is lost. Ironically, that urgency was captured in the 10-Year Housing and Homelessness Plan draft report.
Of most significance in the 10-Year Housing and Homelessness Plan are the findings identified through consultations with myriad stakeholders as well as survey results. Notably that "there is an immediate need to offer accessible and/or supportive housing in the community" and among the two top priorities for improving access to affordable housing include the urgency to "provide supports to allow people with barriers remain housed –mental health, addictions, accessibility etc." (p.9).
The above draft report, facilitated by DSSAB, reinforces that taking down the challenges and barriers in keeping people housed requires that 'Housing First' model. "A Housing First approach is paramount in reducing the costs of housing people in long-term care facilities, emergency shelters, our health care system and correctional services" (p.16).
So what is the cost of housing someone in a hospital bed for one month?
Stats vary but according to the Lookout Society on average in Canada one hospital bed for the period of one month costs $10, 900. That stat can also be found in a report entitled the Real Cost of Homelessness published by the Canadian Homelessness Research Network Press. According to Home Care Ontario the average cost per hospital bed per day works out to $842 per day or $25, 260 per month in Ontario.
According to Diane Morrell, Regional Services Coordinator for Sault Ste. Mare and Algoma Area with Spinal Cord Injury Ontario, wait times in the Sault for accessible housing can range from 2 to 5 years.
With the challenge of wait times for accessible housing in the Sault and the depressing reality that Valerie could end up in hospital care, and using the lowest hospital bed figure, the government may have to fork out anywhere from $261,600 to $654,000 before an accessible home becomes available for Valerie.
It is worth recalling at this point that an arrears of $9,776.08 owing to Social Housing will be impossible for Valerie to pay on a fixed income. Social Housing can deem her ineligible for services while an outstanding debt remains on the record. In essence Valerie isn't just being evicted from her accessible home, she's also being kicked out of Social Housing.
Of the accessible housing situation in Sault Ste. Marie Morrell commented, "Sault Ste. Marie is not isolated in the challenges regarding accessible and affordable housing. It is a challenge across the province. The wait lists for rent geared to income accessible housing aren't really long but people who get one of these units don't leave once they get one. The wait lists may only be two or three people long but those people are waiting for years for an accessible apartment. Once somebody gets into an accessible apartment they don't leave unless they get into a nursing home or if they pass away. The crisis in accessible house is not the number of people on the list but rather the wait times for an accessible place to live."
Steve Burgess is a Community Liaison Worker with the United Way of Sault Ste. Marie and has been working with Valerie to find a solution in this mess.
"As far as finding accessible housing goes- it's a nightmare for everybody. And then trying to find accessible housing that is affordable is a double nightmare. Anybody who is in that situation can expect that it is going to be very difficult. Especially if it's a situation where they are trying to find housing on short notice. Valerie is facing homelessness. There is no question about it."
Burgess also cautions about laying blame.
"These situations are always very complicated," he said.
"What's happening to Valerie isn't just an isolated incident," Burgess added. "I get a number of these kinds of situations that come to me whether it's mobility because of age or illness or something else. It's something that could affect all of us at any moment. And then everything changes."
At this point, short of DSSAB issuing a last minute stay of execution what, if anything, can happen to save Valerie from what seems to be the inevitability of homelessness?
According to Vipond, in the past a coordinated effort among community services has made a difference in housing for people facing barriers.
"The solutions are there when people come together. We've had situations where so many organization came together to help people be accommodated. And I think that sometimes that's what needs to happen. When a particular individual is left in an unfortunate circumstance sometimes it is multiple organizations that have to come together because the solutions can be quite complex."
As for transitional housing to hold Valerie over, that doesn't seem to be an option. In her professional role, Morrell operates as a system navigator, helping people solve disability related challenges.
"As far as I'm aware there are no accessible transitional or temporary housing options in Sault Ste. Marie. It's not something that's on the radar because I think Housing has their hands pretty full with ambulatory people and trying to get them housed."
Aside from occupying a bed in hospital Morrell is unsure what will happen to Valerie when the clock runs out of seconds on April 14th.
"I don't know what is going to happen to her. I'm very concerned. I can't believe that in Sault Ste. Marie we would willfully make someone with a disability homeless. It's one of the toughest situations ever to try to find accessible housing. And nothing else matters if you haven't got a place to live."