For many it's the most wonderful time of the year- almost Christmas in June, July August and September! Many have laid in bed on those frigid winter nights now behind us, dreaming about little green shoots poking through warm, black soil, or setting the alarm on Saturday morning because heading down to the local farmer's market to check out the freshest and best in Algoma, and reconnecting with acquaintances in the community is better than sleeping in!
Unfortunately there are many members of the community that may not have the resources to grow their own gardens, or the resources to access local, high quality produce and other agriculture items offered at the farmer's markets. But growing season brings out the best in the community and there are a lot of great initiatives underway that connects good food to all people.
Food Bank Food Farm: Love Grows a Big Garden
When Colin Templeton established his vegetable field in 2016 his aim was to put a lot of unused property to productive use as well as create employment for his teenage daughter and a family friend. "So we thought we'd give market gardening a try," remarked Templeton.
Farming wasn't a new experience for Templeton who has experience operating a hobby farm, growing food, and raising livestock and poultry for mostly family.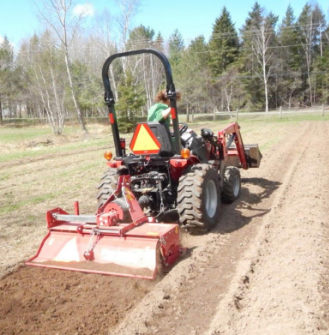 Last summer, Templeton sold produce from his farm, then called The Purple Scallion, at both Algoma Farmer's Market and the Mill Market. As with many local farmers, the challenge for Templeton in growing and producing large volumes of vegetables was finding a way to keep the produce that didn't sell at the market, fresh. Templeton and his growers anticipated the problem but saw the issue as an opportunity to do some good work in the community.
"Last year when we were market gardening one of the things we lacked on the property was cold storage facilities. So we would go to the market and we would have stuff that we couldn't sell, so we would donate that to the food bank system every weekend when the market was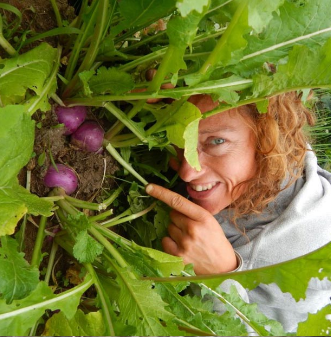 over. And we always did have in the back of our minds to donate a portion of what we grew anyways, so between the two we were in the habit of donating what didn't sell every week," remarked Templeton.
At the end of the market day Templeton would load his truck with his produce to be donated, along with produce from other farmers. "Farmers are really generous people," commented Templeton.
Delivering to the Food Bank every week provided a sobering eye-opener for Templeton.
"We were a little shocked and appalled that we could load up a truck with food and the Food Bank could distribute all of that within a couple of days out to the community. So we learned though that process just how severe the need is in the community. The Soup Kitchen is serving over 2,000 meals a month. It's quite a big need. The Food Banks are a wonderful thing but what is provided to a person in the Food Bank isn't fresh vegetables. It's a lot of canned goods, pasta and stuff like that. Stuff that is high in salt, sugar and carbohydrates –protein isn't well come by and certainly anything fresh is a rarity. So the food that is given to people in need certainly helps them through but it certainly isn't the highest quality food. So we wanted to do more. We wanted to put really good quality food back into the system to supplement the donations that come in –like canned goods."
Unable to unsee the need in the community, Templeton pursued a formal relationship with the Soup Kitchen, and gave up his market garden to use his land and hard-work to grow food for people in the community who struggle with food security. And he changed the name of the farm to the Food Bank Farm. Getting started this year hasn't been easy and while Templeton is grateful for a few donations that have floated his way, most of the farming expense is coming out of his own pocket.
"I've had to put a lot of my own money into it to get it up and going. Donations aren't near where I've put in myself. I've had to put in an irrigation system that was quite expensive, and just the operating cost of buying seeds, and diesel…all the little things. It's not too often that you can point to one big expensive item and explain what you are spending your money on. It's kind of a death by a million little cuts. They do add up. I'm pretty much in the red right now," laughed Templeton. "I'm operating on the hope that things will change over the course of the year and some donations will come in. Some generous donations have come in, but it's a little worrisome at this point in time."
Operating as a not for profit entity, The Food Bank Farm has received donations of products and service from Service Rental and Sales, New North Greenhouses, Jeronamo Solutions and Sandro's Restaurant. But the need for things like soil, fertilizer, and other operating expenses are always ongoing. The farm also has one employee to remunerate.
"I'm very serious about wanting to work with people who want to be a partner in this, with people that want to take an active role in helping people in our community that need our assistance." Templeton especially worries about the well being of young hungry people in the community. "I think the average parent wants what's best for their kids. But what about our neighbour's kid too? So let's think about it that way and do what we can to help provide that."
Interested in joining the Food Bank Farm initiative? Contact Colin Templeton at colin@foodbankfarm.successwithdigital.ca or visit the Food Bank Farm website by clicking here.
Mill Market: Mill Market Money for Everyone
You might not have heard about a fantastic initiative undertaken by the Mill Market a couple of years ago. Mill Market Money, little wooden tokens resembling a toonie, are accepted by Mill Market vendors. Alison Lynes, manager, emphasized that universal access to the tokens eliminates any 'preconception' about people buying items using Mill Market money.
"I know a lot of other communities do this and I know from our end it would be easiest to administer it at the farmer's market. And it is the most inclusive. We use it as gift certificates too so it's not identifying that someone is using it it's because they have a need for support. It's just like a gift card," remarked Lynes.
Beyond accessing locally grown agricultural products with Mill Market money, this 'currency' makes it possible for those experiencing low-income to participate in the market as patrons, connect with community, and choose the products that they'll be bringing home.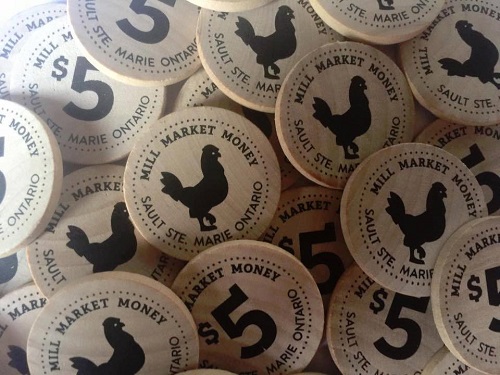 Connecting low-income earners to local food is a shared concern across the country. Local solutions are occurring in places like B.C where a voucher system has been implemented at their farmer's markets across the province. Once a week households enrolled in the program receive a minimum of $15 in coupons that can be spent on fruit, vegetables, dairy, eggs, nuts and meat. The funding for this initiative is provided by the B.C. Ministry of Health and various funders within the province.
Though it hasn't happened yet, Lynes is hoping that a local agency will partner with the Mill Market to get the wooden tokens to members of the community who may experience a food crisis or have an ongoing need to access subsidized food.
"The original idea was that an agency in the Sault that provides emergency gift certificates for grocery stores to families in need would partner with us and they would give the tokens as needed. I guess in the future we would have tried to see if we could get a government grant and then partner with somebody who could be handing them out when somebody needs it," commented Lynes.
That idea is still on the table and Lynes was enthusiastic when she said, "We'd be ready to go with a partnership immediately."
But your Mill Market money isn't only good at the Mill Market. A select number of downtown local businesses will also accept the wooden tokens as cash.
"This was a part of a larger premise to get people thinking about supporting locally. The businesses accept the tokens as cash and then we reimburse them."
Interested in more information about Mill Market money? Contact Alison at hello@millmarket.ca.
Connecting the Dots Community Harvest: Rescuing Good Food
Tim Kelly and four comrades –Joline Beauregard, John Rankin, Lanie Cerasuolo and Ruby Giulioni, noted a lot of good food was never making it to kitchen tables in Sault Ste. Marie.
Statistics indicate:
Canadians waste $31 billion of food every year
32% of the people requiring food assistance are children
25% of food bank users are immigrants
16% of people in need of food assistance have income from recent or current employment
79,000 people each month access a food bank for the first time
Almost 40% of food bank clients have a diploma, degree or higher
On average, people in the city core who use food assistance programs do so for two years
(Source)
Over the next few months, Kelly et al will be strengthening partnerships with vendors from the Mill Market and the Algoma Farmer's Market, as well as Pauline's Place and the Salvation Army. The concept is pretty straightforward- Save the veggies!
"The idea is to rescue food –good food that didn't sell, but food that is either going to be wasted, fed to the animals or composted. That's good food that gets discarded and it never gets eaten. Our goal is to connect the food that could be potentially wasted and get it into the hands of agencies that know how to distribute it to people that need it," shared Kelly.
With only two pick-ups from the Mill Market under their belt, Connect the Dots has already rescued 110 lbs of high quality, locally grown produce in two weeks!
"At the end of the day if farmers are hanging on to produce until the next weekend, it's wilted. So the farmer's struggle with that good food and what to do with it. It's hard for them to connect with the agencies. They're busy. They have to get back to the farm," remarked Kelly. "It's been very well received. The farmers have been very generous and are thrilled actually. They're really glad to see that produce going to good use. And people who receive the food are thrilled."
The group is going to keep things simple for the first year, focusing on produce pick up only. Kelly was able to locate a donated cab for the back of his pick-up truck which allows him to move vegetables and fruit from one location to the next.
"We're focusing on produce only because we don't need refrigerated transport to move them. Once we demonstrate that we have a competent and capable charitable organization that does some good, then we need to line up a refrigerated truck and refrigerated storage so we can up the game and start hitting grocery stores as well. So that's the goal for next year," elaborated Kelly.
Kelly has initiated conversations with the District of Sault Ste. Marie's Social Service Administration Board on the point of a central spot that supports refrigerated storage of donated agricultural goods- and at some point possible grocery store items, and other collaborative efforts that work towards the city's poverty reduction strategy.
Connect the Dots has also connected with the 21 Syrian refugee families in the Sault to develop an approach to providing them with quality, local food. "They are an under-serviced group in our community that have been through horrific hardships, and who deserve some compassion and help getting established in their new life.  We hope to have something in place by end of June," wrote Kelly in their first newsletter.
Inspiration for the Connect the Dots concept was drawn from Second Harvest –a food program that operates in Toronto. Second Harvest was conceptualized by two women in the mid 1980's that identified grocers and restaurants were discarding good food while people in the city were going hungry. Their goal was the ultimate demise of their organization however, food insecurity continues to rise. To date the organization, has rescued over 116 million pounds of food.
"Imagine that!" exclaimed Kelly. "I'm confident that we can pull it off, there's no reason why we can't. We can do it here in the Sault."
Right now, Connect the Dots is looking for three to four more volunteers who are reliable and able to lift boxes. If interested contact Ruby Giulioni at rubygiulioni@gmail.com. Interested in receiving the newsletter? Let Tim Kelly know at timkelly@abertech.ca.