Writing anything about tragedy comes with a great deal of responsibility and deliberation. Add to that the role of police officers in the mix and now you have the two essential ingredients to create an explosion.
The dust has settled a bit since the community of Sault Ste. Marie first learned about an Easter weekend arrest by Sault Police leading to the hospitalization of Tim Mitchell. Mitchell currently languishes in a medically induced coma in the intensive care unit at Sault Area Hospital. Breaking the story was not without its challenges and the grapevine, as well as discussion with other news outlets, indicates that knowledge of the event had been in the hands of some media for a period of time.
But perhaps more relevant is that the public was not alerted by authorities about Mitchell's injuries sustained during the arrest and subsequently the deterioration of his health until April 5th – 11 days after his arrest, 9 days after his admittance to hospital and 3 days after being placed in a medically induced coma.
On March 26th, after his 14 year old son called for help, concerned that his father was in danger of committing suicide, Mitchell was arrested and charged with breach of probation- consuming alcohol, and resisting arrest. During the arrest Tim acquired several injuries. Tim was brought to the hospital after his arrest and then placed in the custody of the Algoma Remand Centre. On March 28th, he returned to the hospital where further tests demonstrated that Tim was suffering 3 broken ribs, a punctured lung and a puncture in the bowel. Tim's abdomen filled with feces and emergency surgery was required on Sunday, April 3rd. He has been in the Sault Area Hospital ICU in a medically induced coma since. Toronto Special Investigations Unit (SIU) was contacted by the family to investigate the incident of Mitchell's arrest on March 28th. SIU arrived in Sault Ste. Marie on April 5th.
The Northern Hoot learned about the story on April 5th and published that day. Attempts to contact Sault police that morning were directed to voicemail and an email message went unanswered. Calls and an email to the SIU, who had been contacted on March 28th by family to investigate Mitchell's injuries sustained during the arrest, also went unanswered until later that day when the agency issued a press release around 3 p.m. A press release by Sault Ste. Marie Police followed that stated:
As a result of an in-custody injury to an adult male the Special Investigation Unit (SIU) has been contacted and are currently investigating this matter. The Sault Ste. Marie Police Service will not be releasing any information as the SIU has invoked their mandate.
While protocol may dictate that officers do not comment during an investigation, and are not required to provide comment to the media at any time, such conventions do little to help the perception of officers in a society that has become suspicious of policing culture. The protocol also effectively shuts down media's ability to objectively report on issues involving the police for fear of appearing one-sided and just as common, inviting intimidation techniques -like threat of lawsuit from a very wealthy police union. This strategy keeps the public on the other side of the blue curtain stifling a meaningful, national conversation about what isn't working in policing. Perhaps in Sault Ste. Marie, where almost every kid gathered around the kitchen table at dinner time -where the more common blessing was 'what happens under this roof, stays under this roof', that public discourse is even more strangled. And nothing changes and nobody is any the wiser.
Providing a platform to people who have negative encounters, perhaps tragic ones, with police is not to stoke the fire against police. An acquaintance emailed me after an encounter at a local coffee shop with individuals debating the Northern Hoot's publication of the family's perception of events. He wrote to me:
I'm sure you know all ready…You have some locals out there that hate you and some that agree with you… I heard it firsthand this weekend downtown at a coffee shop… That's where you get the real truth? Lol. Your coverage of some local police stories is giving people something to argue about. I'm sure that's what you are looking for…
I've no doubt his comments to me were in good nature. However, I have a strong reaction to anyone who thinks that publishing pieces that are controversial are for the sake of 'sensationalism'. Getting to the truth isn't always easy but the conversation has to begin somewhere. A friend, who is an officer, provided me with some good words of support the day after Mitchell's story broke on the Northern Hoot, when he said to me, "The first one through the wall gets bloody."
So where do I hope these coffee shop conversations go to?
Following the killing of Sammy Yatim by Constable James Forcillo, Toronto Police Services Chief of Police requested an independent review of their police services. The Honourable Frank Iacobucci authored the final report, Police Encounters With People in Crisis. Though the report was prepared for Toronto Police Services, Iacobucci urges the wide application of its findings and eighty-four recommendations across Canada's police agencies.
Iacobucci's recommendations include:
*Preference or significant weight be given to new police recruits who: engage in significant community service with exposure to crisis; have experience with mental health, be it direct personal experience with family members or work in a hospital, community service; and possess higher education where post-secondary education is completed or substantially equivalent education.
*Psychologists to screen for new constables using an assessment of positive traits while also assessing for the absence of mental illness or undesirable personality traits.
Terry Coleman, Public Safety Consultant and a Member of the Order of Merit of the Police Forces, was a consultant to Iacobucci's review. Regarding the hiring of new officers Coleman has stated, "I'm not satisfied that police agencies routinely hire the right people. I don't think, sometimes, they are paying enough attention to some cautions put up by psychological screening or polygraphs –integrity screening. And they quote-unquote, take a chance."
But Iacobucci's recommendations also call for the support and greater understanding of the workplace trauma –like mental injuries, that cops acquire on the beat:
*Focus on the need to develop wellness strategies, policies and procedures for police officers that are respectful of the stresses and potential to mental injury on the job.
Cops, like all first responders, are subject to the stereotypes of the general public. These men and women are differentiated from the mainstream by their courage to run towards danger when most are running from it. However, that is where the distinction ends.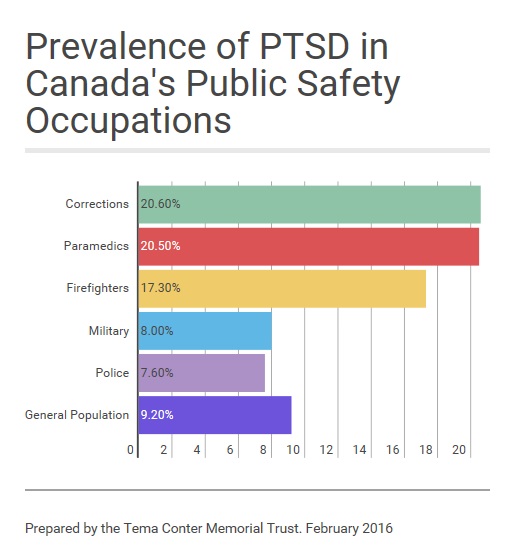 Organizations like Tema Conter Memorial Trust have launched international campaigns that re-humanize our perception of everyday heroes. Creating safe places, especially in the workplace, where police officers can disclose stressful or traumatic experiences on the job without being perceived as inadequate or weak will be an important step in challenging the stigma that exists around mental injuries, such as PTSD, anxiety or depression, that have been acquired while on the job.
So what's the big deal about PTSD and cops?
Research indicates that after experiencing a traumatic event- perhaps high-risk situations on the job or witnessing human tragedy, individuals with PTSD can react to stress 'fully activated' or with anger and violence, even when there isn't a real threat.
Between 2014 to 2016, 32 police officers committed suicide in Canada. This figure is second only to military where 36 members took their lives followed by paramedics (27), Fire fighters (13) and correction workers (9).
Given the alarming stats on suicide deaths among police officers in Canada the finding that cops- in comparison to all the other first responders as well as the general public, are least likely to report symptoms that lead to a diagnosis of PTSD is troubling. This incongruence may imply that police officers are not comfortable disclosing workplace stress and trauma and/or that police officers are not supported in the workplace to disclose workplace stress and trauma.
On April 5th, Ontario passed legislation that creates a presumption that PTSD diagnosed in first responders is work-related. Under the Supporting Ontario's First Responders Act, the presumption allows for faster access to WSIB benefits, resources and timely treatment. Once a first responder is diagnosed with PTSD by either a psychiatrist or a psychologist, the claims process to be eligible for WSIB benefits will be expedited, without the need to prove a causal link between PTSD and a workplace event.
Challenging the stereotypes about cops and stripping away the stigma associated with cops admitting mental injuries may have to evolve within the police force before anything changes. Like the general public, officers themselves hold beliefs and carry into the work place the traditional typecasts that have been assigned to their professional roles.
In January I interviewed Constable Jon Carson. Carson grew up in Sault Ste. Marie and served with the local police force for several years before moving to southern Ontario. Today he is a Training and Educational Officer with York Regional Police. Since coming to terms with his own mental injury acquired on the job, Carson has worked with Dale Curd, Toronto based psychotherapist, to develop C.A.L.M. C.A.L.M is a de-escalation technique which has been incorporated into York Regional police recruit training. The technique in combination with Carson's class –Mindfulness Based Resiliency Training, serves to increase emotional I.Q. among new police recruits. Emotional I.Q. refers to a person's ability to recognize their own emotions and the emotions of others to inform an appropriate response to a situation. In other words, these are tools that help the officer de-escalate their own emotions so that they can assist a person who is in crisis.
Mindfulness or 'meditation' has been shown to shrink the amygdala – the part of the brain associated with fear and emotion which triggers the body's response to stress. The pre-frontal cortex – the part of the brain associated with higher order functions such as awareness, concentration and decision making, becomes thicker. The science suggests the practice of mindfulness increases an individual's ability to draw on pre-frontal cortex functions, owing to more thoughtful responses to stress as opposed to primal reactions.
"Practicing mindfulness has made me more aware of myself and therefore more aware of others. I have a better, empathetic and compassionate approach towards people that have their own crisis going on. As it pertains to the policing world, I'm much more aware of my emotional triggers and how I react in a situation," shared Constable Carson.
And a new wellness practice among officers is slowly starting to catch on- yoga. Calgary is one of several police forces that has recently incorporated yoga instruction or yoga rooms to help police officers 'pump up' before a shift or 'wind down' after a shift. The practice has been viewed by practitioners of yoga and police officers as an easy and cost-effective way to mitigate workplace stress and trauma that often leads to mental injuries like PTSD.
When I spoke with Dale Curd this past January he issued a call for greater understanding from the general public. "As a society we need to have more empathy for the job that these people do. It is a very difficult job and it takes a lot out of them mentally and emotionally, as well as physically. And we need to break down our own barriers in terms of seeing law enforcement as being different from us. We need to start engaging them as part of us, as part of society and taking into consideration their own health issues and their own challenges. We have a stunning lack of empathy for them. And I think that's where there needs to be some reconciliation."
When stories highlighting police brutality/killing or police misconduct surface, the public's reaction often turns to hateful comments- hateful of the cops, hateful of the victim who some may think had it coming and hateful of the messenger. And while it's very easy to understand where the outrage comes from, the greater issues are often missed.
Witness accounts from Mitchell's young son and that of 1 subject officer and 9 witness officers vary grossly. The community will probably never really know 'what' happened that night but it is safe to conclude that during Mitchell's arrest something went terribly wrong. The question we need to ask –at the coffee shop, is not 'what' happened but 'why' did this happen.
A crisis within policing culture has been identified nationally and in Sault Ste. Marie. Locally, and with urgency, the Sault Ste. Marie leadership needs to step in front of this problem and figure this shit out. Otherwise, it's business as usual.