Aanii, Salut, Hello,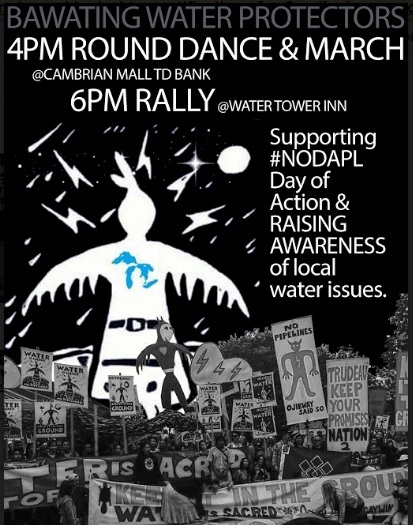 On Tuesday evening, November 15th, 2016, local citizens from the Sault Ste. Marie area will be coming together to hold a peaceful march and rally. The demonstration will begin at 4:00 p.m. with a round dance outside TD Bank at the Cambrian Mall.  Following, at 5:00 p.m. the march will begin and lead to outside of the Water Tower Inn located off Great Northern Road, for a final rally at 6:00 p.m.
As the Ontario Ministry of Energy holds a public consultation on the province's long-term energy plan at this location, the march and rally hopes to achieve the following:
Stand in solidarity in support of the pipeline protest taking place near the Standing Rock Sioux Tribe in North Dakota, including supporting #NODAPL Day of Action where other coordinated rallies will be taking place across the globe on November 15th.
Raise awareness of local water issues, in particular, the Enbridge Line 5 pipeline, which increasingly poses several risks to Great Lakes, one of the most ecologically sensitive areas in the world and home to 20% of the fresh surface water on the planet.
To address Ontario's Long Term Energy Plan. We request answers as to why our hydro rates so high and what exactly a delivery fee is? Whereas, Sault Ste. Marie is the capital of green energy in Ontario, we request answers to why are our hydro rates still so high.
The Ontario Energy Board is holding a "consultation".  Rather than participate in the linear consultation we choose to lead a demonstration outside, as we do not feel the Energy Board has genuinely or effectively reached citizens in Northern Ontario. We do not agree with their long term plan and will use this is an opportunity to clearly state so.  We request accountability for the protection and distribution of our essential to life natural resources.  We invite and encourage all peoples and nations to join us in a march and rally of solidarity.
Miigwetch,
Bawating Water Protectors