A healthy community is one that embraces the belief that health is more than merely the absence of disease; a healthy community includes those elements that enable people to maintain a high quality of life and productivity. ~ Healthy People 2010 – Healthy People in Healthy Communities
Physical activity has an obvious effect on body health but its benefits are long reaching. Individuals who are active experience increased mental wellness, expanded social networks and overall- just a better quality of life. Communities where individuals are physically active experience a decreased burden on the social economy and developing an assortment of activities in a community can serve as an economic generator thereby further contributing to the well-being of the people that live there.
On Wednesday, July 1st from 10 a.m. to 2 p.m. the community is encouraged to celebrate Canada Day at the 4th Annual John Rowswell Hub Trail Festival. Walk, run, cycle or wheel the 22.5 km trail with your family, your buddies or all by yourself! This year there are 14 stations along the trail where participants are rewarded with some nifty give-aways. Complete the entire circuit by 2 p.m. and you're entered into the big draw for the grand prize- an Electra Townie sponsored by Velorution and Back In Motion Physiotherapy. For the wee ones there's a Jumpstart rodeo and a chance to win two bikes. (You can find more about the Hub Trail Festival below.)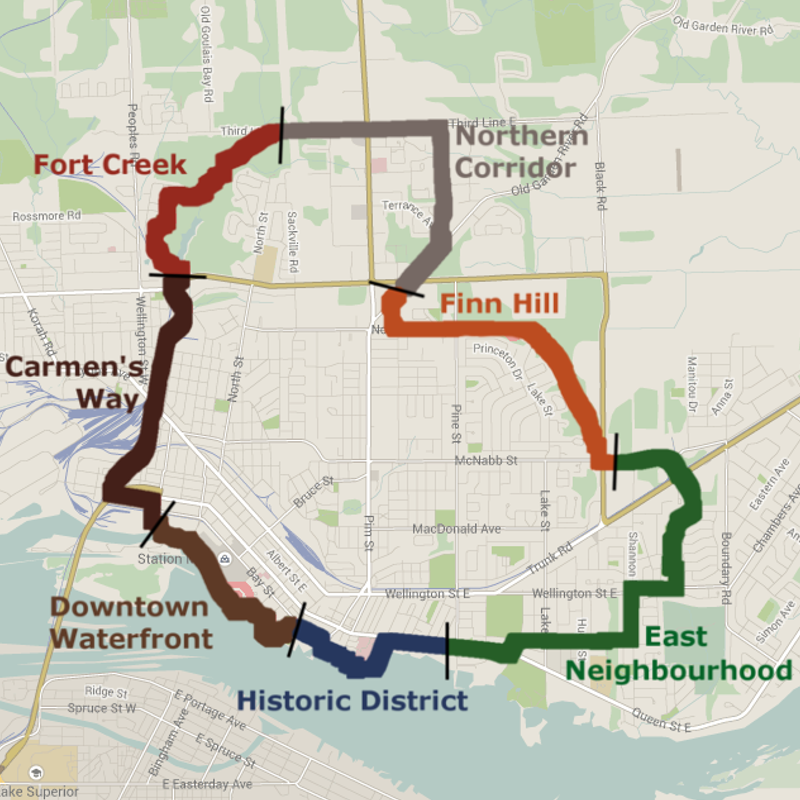 Deanne Greenwood is the Trail Coordinator and Community Liaison contact with the Sault Ste. Marie Conservation Authority. Greenwood, along with Andre Riopel –owner/physiotherapist Back in Motion, avid cyclist and fitness advocate, have spent the past few years promoting the Hub Trail Festival to encourage active transportation and use of the trail.
"We wanted to create an event that was free for everyone," remarked Greenwood. "And there are still a lot of people that haven't been on the Hub Trail yet. We want to get people out to experience it for the first time"
So why should you bother to strap on your bike helmet, grease your wheels or double knot your sneakers on July 1st? Well for starters, folks in the Algoma District are a fair amount plumper that the rest of Ontario. Yes- here in the North we do have more of something than Southern Ontario does- extra junk in the trunk. In Ontario 51.4% of the population are overweight or obese compared to the Algoma District where 63.7% of the population report needing to grease their muffin tops before squeezing into their skinny jeans. (Source: Statistics Canada, Canadian Community Health Survey, 2003-2009)
But 2015 has also been a big year for the John Rowswell Hub Trail.
Earlier this spring, the John Rowswell Hub Trail project led by NORDIK Research Institute launched the trail into the digital age, enhancing user experience with the addition of virtual maps, as well as, trail guides, to coincide with each trail marker found every half kilometer. The trail guide can be experienced in English, French and Anishinaabemowin.
And just last week, City Council recently approved an allocation of up to $160,000 from capital surplus to construct a spoke from the Hub Trail to Etienne Brule. The extension will run through Brule to Esposito Park where a bike pump track has been proposed for next year.
"I'm so pleased that this pump track is going to be built next year. It's going to connect that community which is in dire need of some form of recreation. Those kids need something to do." Adding to his comment Greenwood ruminated, "There's a generation of kids out there that don't know how to ride bicycles."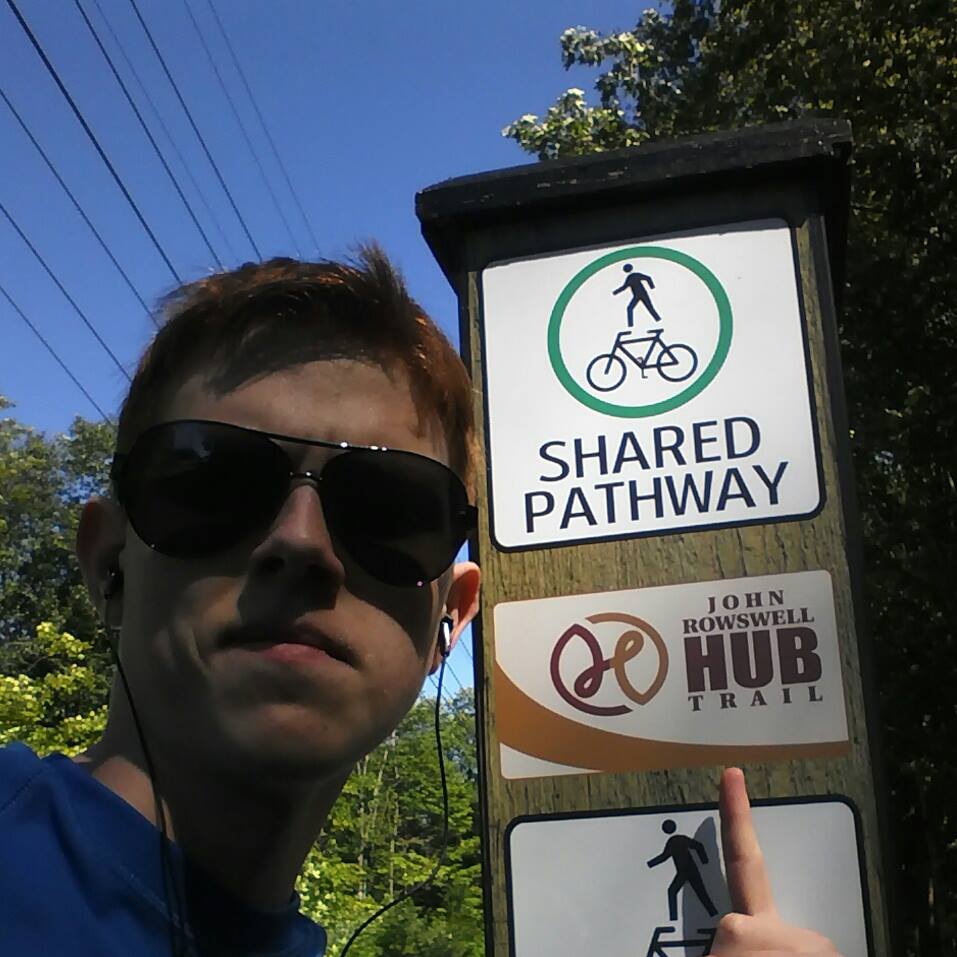 Greenwood is on to something.
National statistics show that:
Physical activity peaks between the ages of 10-13 yrs.
By ages 15-19, 48% of females are inactive
By ages 15-19, 28% of males are inactive
Almost one third of Canadian youth do not get enough physical activity for adequate development of cardiovascular fitness, muscular strength and flexibility
The 2011 Ontario Report Card Supplement reveals that 6-19 year-olds in Canada spend an average of 8.6 hours per day, or 62% of their waking hours, in sedentary pursuits- too much screen time right?
However, findings from the 2015 ParticipACTION Report Card on Physical Activity for Children and Youth encourage that:
Adventure playgrounds and loose parts playgrounds, which support some exposure to "risky" elements, lead to an increase in physical activity and decrease in sedentary behaviours
Children are more curious about, and interested in, natural spaces than pre-fabricated play structures
Children who engage in active outdoor play in natural environments demonstrate resilience, self-regulation and develop skills for dealing with stress later in life
Outdoor play that occurs in minimally structured, free and accessible environments facilitates socialization with peers, the community and the environment, reduces feelings of isolation, builds interpersonal skills and facilitates healthy development
The Hub Trail was conceptualized in 2006 with a goal to create a non-motorized, active transportation route that would connect community to its wealth of history, culture, ecology -and to each other. Using infrared technology, the Algoma Public Health Unit counted a total of 51,003 passes on the trail between the years 2011-2013. Stats collected from the last two Hub Trail Festivals showed participation rates for 2013 at 325 and 2014 at 297.
"Like the name says we want the Hub Trail to be a 'hub' or a 'gathering place' for people," shared Greenwood who has been dedicated to the trail development since its very genesis. "I think that's happening. And I think we're going to see even more people using the trail this year. My wife and I ride our bikes on the trail a couple of times a week and the great thing about it is that there's always so many people out there. It's a phenomenal thing to see."
*****
2015 John Rowswell Hub Trail Festival
Celebrate Canada Day Wednesday July 1, 2015 by taking a hike, bike ride or skate on the John Rowswell Hub Trail.
This free non-competitive event is aimed to encourage the community/residents to (re)discover the John Rowswell Hub Trail, have fun and win prizes along the way.
Children (2 – 12yrs) participating in the Jumpstart Bicycle Rodeo will be entered in a draw to win a bicycle donated by Jumpstart. The rodeo is located at the Roberta Bondar Farmer's Market site.
Canada Day activities will be occurring all afternoon and evening at the Tent Pavillion.
How does it work?
Start anywhere along the John Rowswell Hub Trail beginning at 10 am until 2 pm, pick up a passport at one of 14 passport stations located on the 22 km Hub Trail. Go to one station or visit them all.
Some passport stations offer activities, some have free give-a-ways.
Return your passport to the Roberta Bondar Pavillion to enter in a free draw for more prizes that will take place at 3 pm. Winners must be present to claim prizes.
Discover the John Rowswell Hub Trail and reap the healthy benefits – make it work for you.
Everyone self-powered is welcome – walkers, cyclers, wheelers and skaters.
A children's "Jumpstart" bicycle rodeo will take place at the Robert Bondar Pavillion from 11 am – 2 pm. Children ages 2 – 12 can participate in the rodeo by showcasing their riding skills in an obstacle course designed to test balance and have a chance to win bicycles donated by Jumpstart.
John Rowswell Hub Trail Festival – Passport Stations – July 1, 2015 ~ 10 am-2 pm
1 St. Marys River Remedial Action Plan       8 Prouse Chevrolet
2 Bush plane Museum                                  9 Naturalist's / SSMRCA Fort Creek
3 Sault Ste. Marie Tennis Association         10 Marconi Club
4 Algoma University                                     11 Parks Canada
5 Algoma Public Health                                12 Mill Market/Entomica
6 Velorution                                                  13 Jumpstart Bicycle Rodeo
7 Searchmont Resort                                   14 Catalyst Fitness